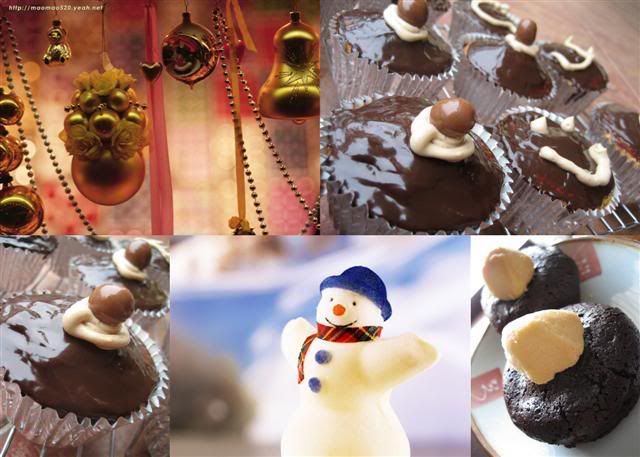 It's my most favourite time of the year again.... It's
Christmas
time! So what have you got planned? Any
"chestnuts roasting on open fire"
and "
Jack Frost nipping at your nose"
? Over here, you would probably see the former being roasted by a roadside seller using charcoal over a big wok anywhere and the only "Jack Frost" nipping at your nose is probably from the blast of chilly cold air-cond. Anyhow, now matter where you are,
Christmas
is as lovely anyway so long it already happened in your heart.
So here's wishing everyone
a truly wonderful and blessed Christmas!
Christmas

, a time for sharing and a time for giving gifts,
But most importantly, it is a time for remembering the greatest gift ever given,
Emmanuel.
And here's the recipe to the wonderful flourless chocolate cupcakes you see above. Especially good when served warm with cold ice-cream but just as delectable simply topped with macadamia nuts or frosted with chocolate ganache.
Easy Flourless Dark Chocolate Cupcakes
(Makes apx. 10 cupcakes)
100g dark chocolate, chopped
1/2 cup butter
1/2c + 1/4c sugar (increase if choc is bitter)
1+3/4 teaspoon vanilla
3 eggs
1/2 cup good quality cocoa powder
Method:
Preheat oven to 175c. Grease muffin pans and dust generously with extra sifted cocoa powder (if you find that you are using a lot, take some from the portion allocated above in the ingredients).
Melt the chocolate and butter together in a medium bowl set over a simmering pot of water, or zap in microwave for a quick fix. Remove from the heat and stir in the sugar, vanilla, eggs and cocoa. Mix well.
Pour into muffin pans and bake for 15-16mins or until done. Cool in pans for 5 mins before turning them out to be cooled completely on wire racks. If you are frosting, make sure the cakes are completely cooled before frosting.