Today is Malaysia's 48th Independence Day. We call it Merdeka Day. Most importantly, it is a holiday. *grin*
Anyway, I spent most of the day in the kitchen making these. But let me warn you that they are not exactly pretty sights....
1) Chocolate Orange Swirl muffins
Made a mistake by accidentally adding an additional half cup of liquid resulting in a chewy center. Taste was gorgeous though....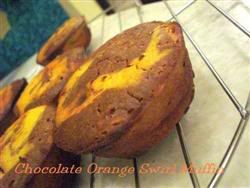 2) Cappucino Huat Kueh
Erm, something went wrong here. I used a very simple and easy recipe that seems to be "too easy to be good"... I reckon I was right the first time. :(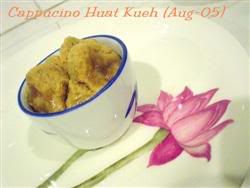 3) Seafood Pizza
SIL wanted to learn to make pizza so I taught her. I wasn't too satisfied with the end result though although they were quite yummy. I would prefer to make the crust thinner as opposed to making a thick-crust pizza which these were.