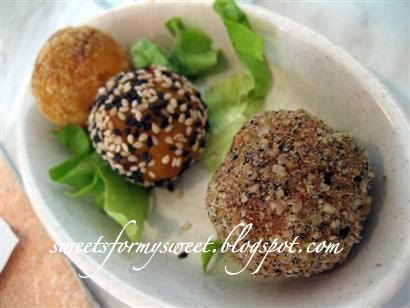 3-style Steamed Sweet Potato Balls
Stumbled upon this 'little gem' of a place recently although I later discovered that (according to my colleagues) they have been operating for some time now but recently expanded to this recent location due to growing popularity.
Green Meadow Cafe
is its name and organic vegetarian is its game.
(gee, sounds so cheesy...)

The menu looks good with a nice selection of dishes (
although mostly are individual dishes
). A selection of the more popular and house specialty dishes is shown on the placard.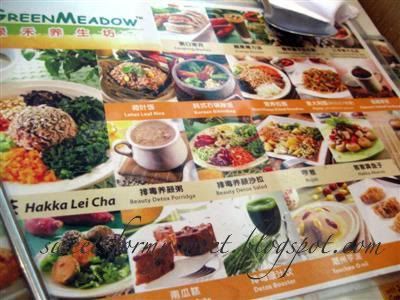 Tempting as the more substantial dishes look, nothing can take my eyes away from these little snacks made from three of my favourite root vegetables;
sweet potatoes, pumpkin and yam
.
First to be served was the
Pumpkin Cake
.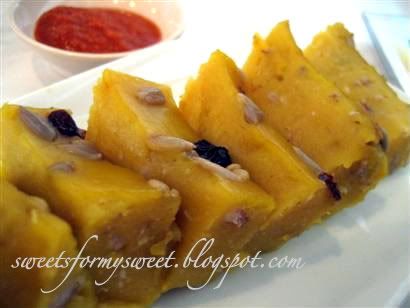 When I saw this in the menu, I presumed it was the savoury pumpkin kueh. So when it arrived without any sauces, I immediately asked for some chili sauce. The waitress did a double-take before hurrying away to get some for me. I later understood why. The
Pumpkin Cake
is
not
the savoury type at all. Loaded with sprinkles of raisins and sunflower seeds, its glutinous texture and subtle sweetness make it more like a "
nyonya-style kueh
".
I was more impressed with the
3-style Steamed Sweet Potato Balls
.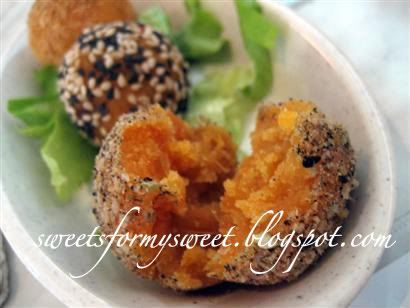 Individually coated in black and white sesame, grounded "peanut-y" powder and the last one which I failed to identify, they are ideal as healthy and nutritious snacks.
To end, the
Or Nee
(
steamed yam pudding
) was served.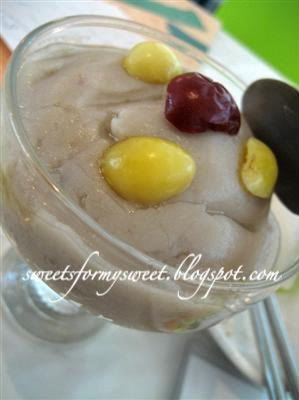 Topped with some gingko nuts and red date, the
Or Nee
is a luscious dessert. Every bite of its velvety and creamy texture was a delight to the palate. If it's less oily, I would definitely indulge in it more often.
All in all, it was a pleasant experience. I look forward to trying other dishes on their menu next time.
Green Meadow Cafe
62-62C, SS2/67,
47300. Petaling Jaya.
Location Map here.