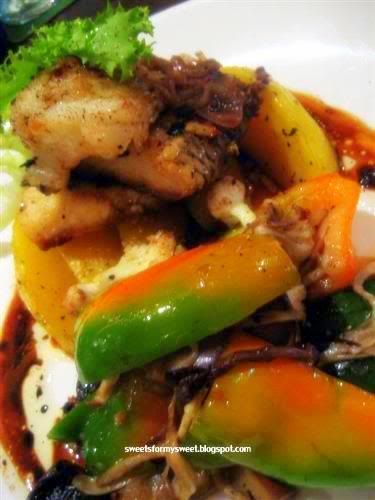 Pan-seared Canadian Cod
Nestled in the maze of pubs, cafes and eateries within
Solaris Mont Kiara
is this rather cozy corner bistro-like restaurant serving basically European/Italian fare. Twas was a friend's birthday and there was a big group of us. A variety of dishes were ordered although unfortunately, I only managed to take pictures of those that were within my vicinity.
Some starters were ordered but I was a little late and forgot what was served. However I do remember their
personal pizzas
were really good. Laddened with hearty ingredients with a thin and somewhat crispy base, it was how I like my pizza to be
(sorry, no pic)
. The same thing can't be said about the soup that we ordered though. I couldn't really remember whether was it
seafood minestrone
or
seafood chowder
.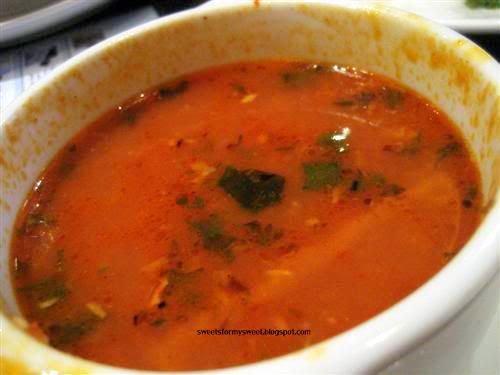 Seafood minestrone or seafood chowder? Presentation was better and not as above, we redistributed it into smaller bowls, hence the "messy rim".
I was expecting a thick type of soup for it was mentioned in the menu that it came with some bread. As a matter of fact, the soup was rather thin and lacked of flavour despite the rather generous seafood given. There was also no bread in sight but we did not pursue the matter as we were given an additional complimentary small bowl of the soup
(sucker for free stuff, lol)
. Also, I doubt the bread would help the rather
'thin'
soup much.
For my main, I ordered their special of the day which was not on their menu,
Pan-seared Canadian Cod
(apx. RM60 / pictured above
). How was it? To be frank, it's rather easy not to go wrong with a good piece of cod as most of its flavour comes from its thick and creamy flesh. However, my main was just slightly overcooked and there wasn't anything partcularly exciting about the way it was cooked or the accompanying condiments. Overall, it was still decent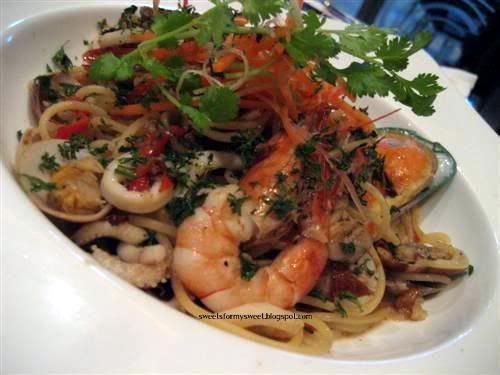 Seafood Pasta done aglio olio style
2 types of pastas were also ordered, one is seafood and the other is spicy sausage
(or something that sounds similar
). Both are done
aglio olio
style. My friends who ordered did not have any complaints. I stole a few bites and find it slightly too bland,
even for an aglio olio style pasta
. Also, the addition of
chinese parsley
seems a bit out of place, rendering the dish to taste like
noodles cooked chinese-style
.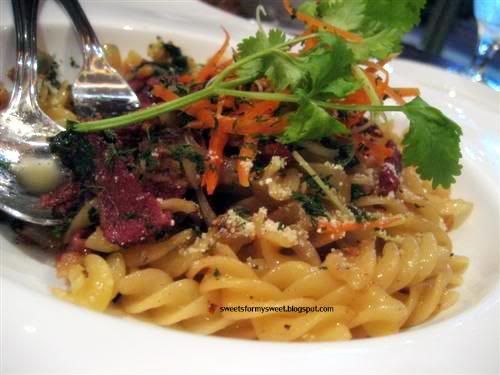 Spicy Sausage Pasta done aglio olio style
Desserts were nothing to shout about
(hence no photo too)
and I would give it a miss although I wouldn't mind returning for their yummy pizzas.
D'Empire Brasserie
22 Ground Floor,
Jalan Solaris 4, Solaris Mont Kiara,
Kuala Lumpur
Tel : 603- 6203 6887