Seems like I have not been blogging about my baking for quite a while. Truth to be told, I have cut down my baking due to time constraints. Nevertheless, I still try to bake at least once a week. Also, I have been repeating some of the bakes that I had already blogged about so I don't see any point blogging about the same recipe again.
Anyway, here are 2 new recipes that I tried out last weekend:
Chocolate Cheese Layer Cake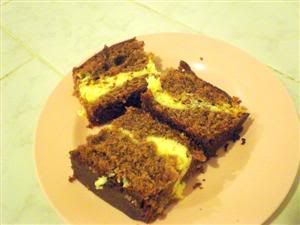 After hearing much about on the Malaysia baking blogsphere, I definitely wanted to give it a try. Also the recipe doesn't sound complicated, with only simple ingredients. The only adjustment I made was too add some lemon oil into the cheese batter for I like my cheesecake with some lemon undertone. The result, good!
But I guess I wasn't careful enough when dividing the chocolate batter into 2 appropriate portions and pouring the cheese layer in between for I think the cheese layer wasn't even enough and I was left with insufficient chocolate batter for the top layer. In the end, I had to twirl the top chocolate layer with the cheese a bit to even it out.
Crunchy Chocolate Chip Cookies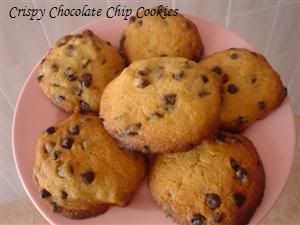 I made this while waiting for my SIL to come back with the eggs (I was short of 3 eggs while attempting the above recipe). So in the mean time, I chanced upon this recipe which I had printed out and kept in a folder. And since cookies only require a very short baking time, I thought, "why not..". Anyway, these came out pretty good. Not as crunchy as I hope for but I reckon that was due to the fact that I made them larger than recommended in the recipe. I didn't really take note of the baking time, only taking them out when I saw them turning brown. FYI, I have a knack of burning cookies in my oven. Somehow, most baking time and temperature for cookies recipes do not work in my oven. I usually have to reduce baking time and temperature, but that also result in the cookies being more chewy than crunchy (I personally prefer the latter). Anyhow, I am glad that this batch turned out ok. ;)
Note: Click on link for recipes.