Here's a transcript of my 'adventure' at the
Bakin Boys
counter at KLCC:
Me goggling at the varieties of cookies on display.
Pretty attendant : Hi, would you like to try our samples?
Me : Um, sure. What do you have?
Pretty attendant : We have
Peanut Parade, Cranberry Basket
and
Coconut Cabaret
.
Me : Ok, let me try the Peanut one . Mmm.., (while savouring cookie) that's
good. And how about the Cranberry one. Mmm… (while savouring
another cookie) This is very, very good as well.
Pretty attendant : Thanks. Would you like to buy some?
Me : Yeah, sure. But which should I have? All look so delicious.
Pretty attendant : Why don't you buy 6? 6 pieces only cost you RM21+, and you get to
sample a variety.
Me : Oh, no-no. They are so huge and I will probably gorge all 6 by myself.
By the way, do they come in smaller sizes?
Pretty attendant : Sorry, at this time we only have them in 1 size.
Me : Ok, then. I will take the
The Praliner
.
Pretty attendant : Good choice. Are you sure one is enough?
Me : Yeah. They are huge! How long can I keep them just in case I can't
finish them? Would they keep for a couple of days?
Pretty attendant : Sure, no problem at all. Here you are, 1 pc of Praliner for you (as she
hands over the bag containing the cookie).
Me : Thanks….And erm, I think I will also take another piece of
The
Martian Fellow
cookie.
Pretty attendant : Sure (as she gives me this knowing' smile). Is that all?
(
as she saw me eyeing the lone mini

Banana Muffin glazed with Lime

Frosting

sitting prettily on the counter
).
I nodded rather unconvincingly. Quickly paid and scurried away before I gave in further to temptation!
Back to the cookies,
The Praliner
is described as
"tantalizing pecans liberally sprinkled over a top crust that hides away layers of praline"
. It was yummy, no doubt, although I am not sure about the "liberally" part as there was only one pecan sitting on top of the cookie. However, for a non-dark chocolate cookie, I think I prefer the
Peanut
or the
Cranberry
one. This is a little too sweet for my liking.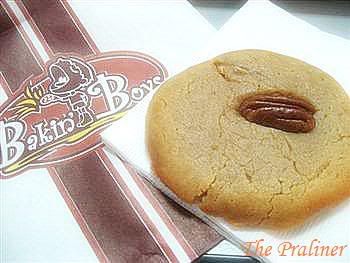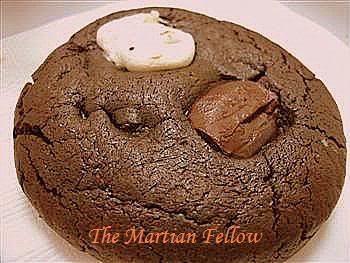 And as for
The Martian Fellow
, it is described as
"scrumptious portions of melted marshmallow in thick gooey dark chocolate
". I love dark chocolate and anything that contains good dark chocolate will not go wrong with me. Having said that though, somehow I wasn't that impressed with this cookie. Delicious as it was, it reminded me of a chocolate brownie which
(at the risk of sound pompous
), I can easily replicate
(

or at least I would like to think so
).
Bakin Boys
cookies are soft cookies that kinda melt in your mouth. In a way, they remind me of cookie dough.
Nevertheless, I still enjoyed both cookies very much and was glad that I stay and work nowhere near KLCC where
Bakin Boys
is located.
Oh, by the way, the cookies didn't even last through the night. Both of them were gone in no time. And I
actually worried
about not being able to finish one –
what a joke!