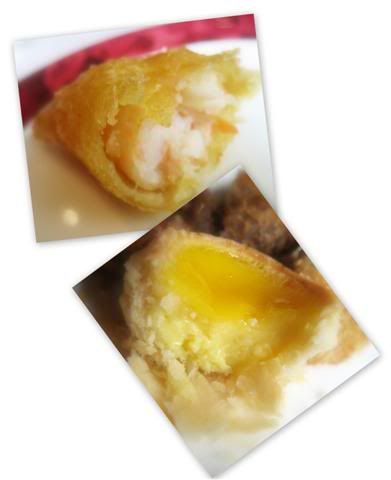 Crowd-pleasers: Flaky Mini Egg Tart and Shrimp Roll with Mango/Cheese
Yep, been overloading on dim sums lately. Thank goodness it ranked as one of my favourite food. Anyway, this is one of the more recent outings at
Emperor Chinese Restaurant
in
Sheraton Subang
.
Initially, I was only thinking to go for their ala carte dim sum but as we walked in, we noticed that they were haivng an "Eat-All-You-Can" Dim Sum promotion. Of course, ala carte orders are still available but looking at the former which was priced at RM60++, and the prices of ala carte dim sums on the menu, plus that I have the Starwood card that gives me 50% discount; it didn't take long to work out that the promotion was much more worth it.
So we settled down and ordered a very nice pot of Jasmine tea.
Basically, one can order any dim sum from their usual dim sum menu except for the shark fin dumpling in broth
(kun tong kao
) and chef's special. In addition, there was a selection of items on the buffet table, including roast duck and roast chicken as well as a "cook-to-order" porridge stall.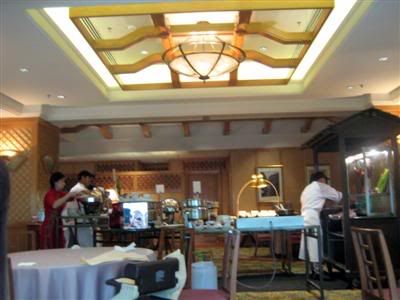 Picture: Buffet Spread
Most dim sum items on the buffet spread consist mainly of deep-fried and pan-fried items. Our selection include: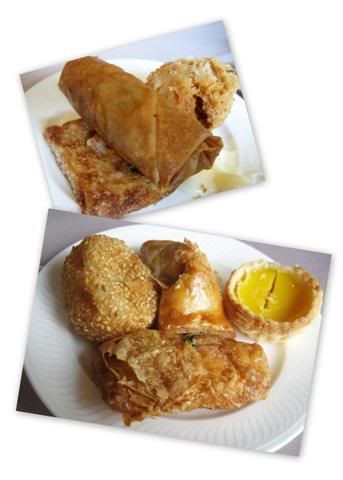 TOP PICTURE (Left-to-Right): Pan-fried radish cake, Shredded Duck Meat Springroll, Yam Puff
BOTTOM PICTURE (Clock-wise from Top-Left): Mini Sesame Dumplings with Peanut Paste, BBQ Chicken Puff, Mini Egg Tart, Shrimp Roll with Cheese/Mango
Maybe it's due to the fact that they're displayed as a buffet spread, we didn't really find anything that was worth going back for a second helping with the exception of the wonderful
mini egg tart
that has a delightful crispy and flaky crust and soft melting custard centre. Not the best I've tasted but I would rate it highly. Almost as pleasing is the shrimp roll.
(Both pictured above).
Some were rather alright, like the
Sesame Dumplings
and
Yam Puffs
but I think that all of them would have scored higher points if they were ordered fresh from the menu.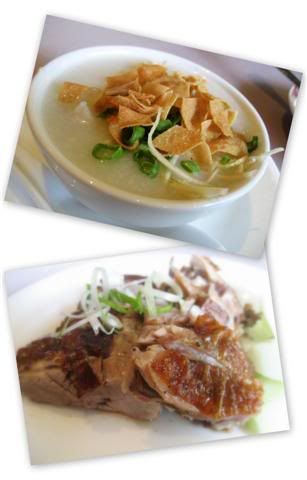 Top-to-bottom: Fresh Fish Congee with Century Egg and Roasted Duck
We also ordered a small portion of the
roast duck
and a small bowl of
fish congee with century egg
. The duck was ok although a tad chewy and a tad gamey. On the other hand, the congee, which was prepared-to-order was rather good! Fresh fish meat in a thick and heart-warming gruel,
I like...
The steamed items (ordered from their menu but included in the promotion) were better than those items on the buffet spread, largely due to the fact that they were made fresh to order. We tried some of the more unique-sounding ones;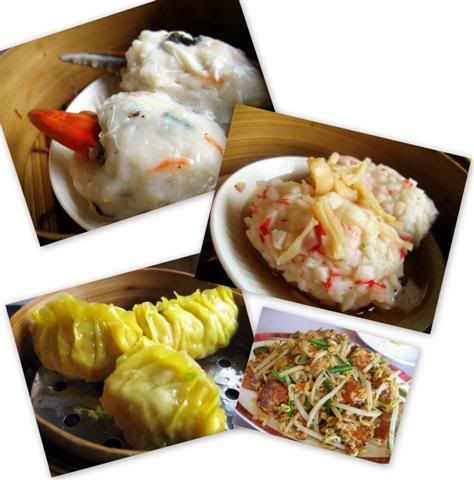 Clockwise from Top-Left: Stuffed Crab Claw, Shredded Scallop with Crabmeat Dumplings, Sharkfins Dumpling and Stir-fried Radish Cake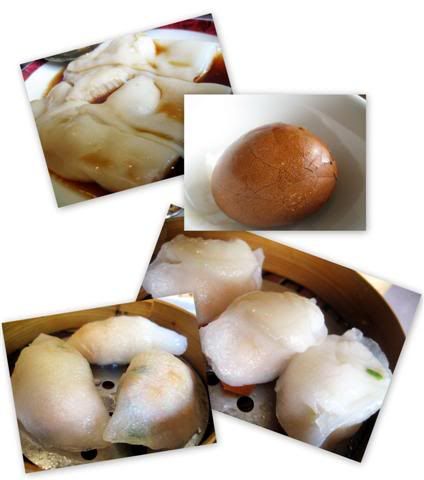 Top-to-bottom: HK Cheong Fun with Scallops filling, Tea-Leaf Eggs (this was from Buffet Spread), Scallops Dumpling, TeoChew Style Dumpling
I like the Stuffed Crab Claws as it is stuffed with real shredded crabmeat (not the imitation) kind. Others ranged from mediocre to alright particularly anything stuffed with whole prawns as they were fresh and bouncy-to-bite. On the other hand, the first plate of Stir-fried Radish Cake that arrived were a let-down although it looked promising albeit slightly too dark. To give them credit, I did like the texture, as the cubed radish cake was slightly charred and crispy outside while the inside still remained slightly wet and gooey. Unfortunately, there was unmistakeable taste of "burnt-ness" to it which the waitress explained was actually the "wok-hei" (??) when we complained (perhaps too much "wok-hei" then?). Nevertheless, they willingly took the plate back and exchange with another plate that was less crispy, not as delightful to bite but minus the "burnt" taste.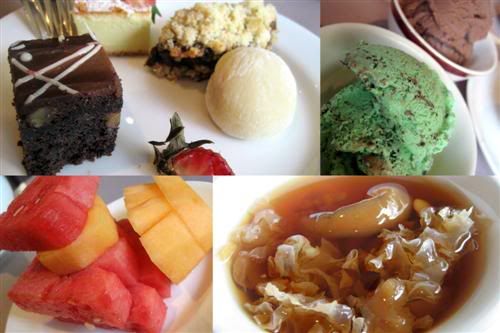 Desserts selection were not much. Some standard hotel-styled cakes, pastries, cut fruits and ice-creams which were forgettable but the Double-boiled Sea Coconut with White Fungus and Longan was excellent!
There were quite a number of items from the menu that we did not get to try this time as we were too stuffed too soon. Then again, many of items on the menu especially the non-steamed, pan-fried and deep-fried items, were already displayed on the buffet spread. Come to think of it, they might tasted better if we were to order from the menu instead of taking it from the buffet spread. Oh, well...
Emperor Chinese Restaurant (Halal), Sheraton Subang Hotel
Previous post on Emperor Chinese Restaurant here.