I am a fan of Chinese Tongshui (sweet soup) too.
Black Sesame Paste
(Hak Zi Ma Wu)
is another classic tongshui, just not so common in KL. I usually have my fix in Hong Kong.
Anyway, I recently found a simple and easy recipe for it so I gave it a try.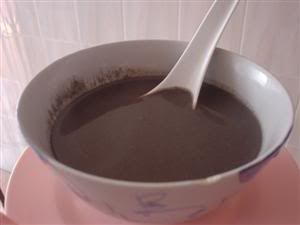 Verdict:
Passable but no where as good as those found in Hong Kong. Still worth a try though. Recipe below.
Then, I discovered
another gem of a recipe
.
Red Bean Nian Gao
(Glutinous Rice Cake).
I know Chinese New Year was way over but who says that there must always be an occasion for everything? Definitely not so, in my books.
The uniqueness of this recipe is that it is
quick, fast and baked
(instead of the usual labourous steaming method).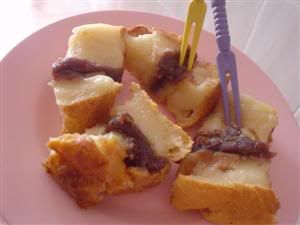 Verdict:
Ultra yummi-licious! Especially when just baked. The outer layer is very crispy (as if it was pan-fried) and fragrant while the inside remains soft and chewy (but not sticky chewy). Would definitely be making this again. Maybe I will substitute with Lotus Paste next time.
Black Sesame Paste Tongshui (Hak Zi Ma Wu) Recipe
(Apx 4 bowls)
- 100g dry-roasted black sesame (I toast it in the oven till fragrant)
- 750ml milk/water
- 1/2 sugar (adjust according to your taste)
- Thickening: Corn Starch/Potato Starch mixed in a little bit of water
1. Put the black sesame and milk/water in a blender. Pulse until paste-like.
2. Transfer to a pot and add sugar.
3. Cook over low/med fire. Stir at all times.
4. When it starts to simmer, add thickening until it reaches the consistency that you prefer.
5. Serve hot.
* Be careful when watching the fire to ensure that the tongsui remains liquidy paste-like at all times.