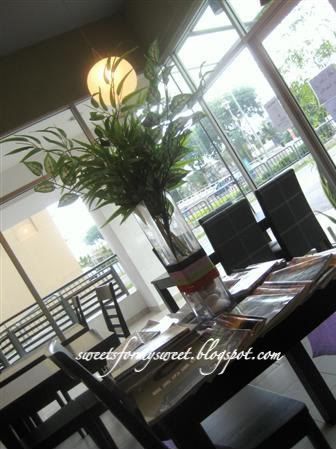 Further down the block from
Ben&Nick's
is a little Japanese-styled cafe and bakery named
Haikara
. Small and quaint, and with the occassional delicious whiffs of something delicious being baked, one would immediately find the ambience cozy. The outlet was quiet on a late Sunday afternoon
(probably because they were about to close for the day)
except for a few patrons reading Japanese magazines and comics
(which are provided for free reading)
while sipping their coffee accompanied by yummy-looking pastries from their cake counter, which to my delight reminded me of those that I liked so much in Tokyo. In other words,
petite in size with a touch of French-influence.
Their menu appeared to be rather simple. Most were
westernized
Japanese-cafe fare such as pastas
(they serve Mentaiko Pasta here by the way),
Japanese curries, salads, and light bites like sandwiches and Japanese croquettes.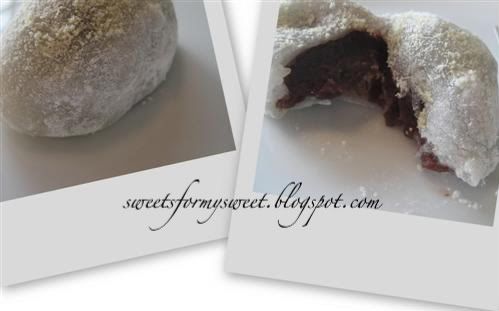 I ordered a home-made daifuku
or
mochi that were displayed in their pastry corner for I was feeling rather famished and needed something to fill my tummy before the main meal arrive. I was a little let-down though. Costing RM2 a piece, the filling was too sweet
(

although most azuki paste tend to taste overly sweet)
. It was not bad but I smugly told my friend that I prefer my own version like
here
and
here
.
*lol*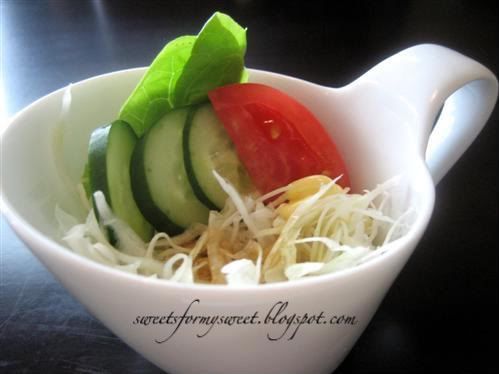 Our sets came with complimentary soup and salad. The salad was typical Japanese-style garden salad. Crisp and fresh cucumber, tomatoes and shredded cabbage lightly dressed in creamy dressing.
The complimentary soup was rather special. When it first arrived, for a moment I thought it was a hot beverage. It looked more like hot water with bits of green herbs floating that a proper soup. See how clear it was: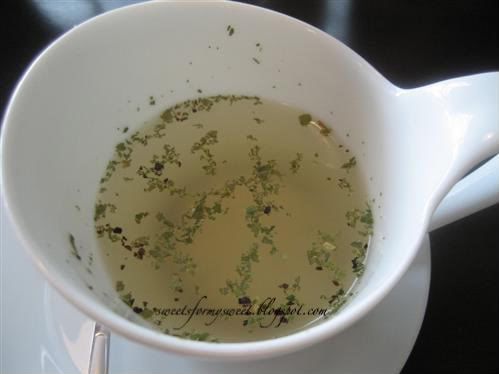 Despite our initial doubts, it tasted pretty good. Simple uncomplicated flavours that spelt "comfort food". And what more, it was virtually grease-free.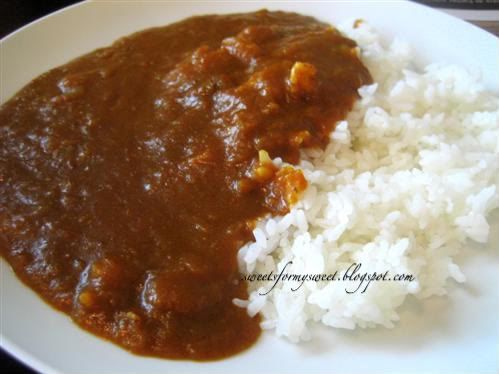 My friend order their
Japanese Curry with Rice set.
One can also opt for Japanese Curry with Pasta or with Chicken Katsu . Nevertheless, both of us were rather surprised to see that it was what it was. The curry was plain with a few chunks of onions and potatoes but contained absolutely no meat. Portion of rice and curry sauce given were pretty generous but we reckon for the price
(it was close to about twenty ringgit, if I remember correctly)
there ought to be at least some scattered pieces in the curry instead of
"nasi kari Jepun kosong".
Fortunately, our initial disappointment quickly evaporated after a couple of spoonfuls of the curry. It was really good! Thank goodness they didn't use those ready-made boxed curry mix. It may looks simple but it tasted as if it was painstakingly made with much attention. Thumbs up!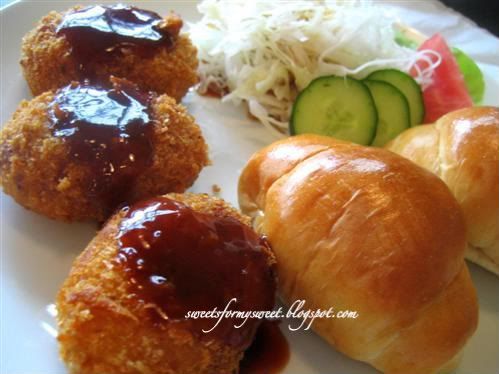 I ordered the
Chicken Korokke set
which came with 3 pieces of croquettes lightly drizzled with
tonkatsu
sauce, a side salad and 2 soft bread rolls. No complains here. The salad was fresh and the bread rolls were soft and buttery. But of course, the highlight was obviously the croquettes. The freshly deep-fried chicken and potato patties were crispy without being oily. The fry technique is impressively dry and greaseless, leaving only crispy satisfaction. And the meat-to-potato ratio was very well-balanced. I am not a fan of korokke but I have to say I enjoyed this dish very much.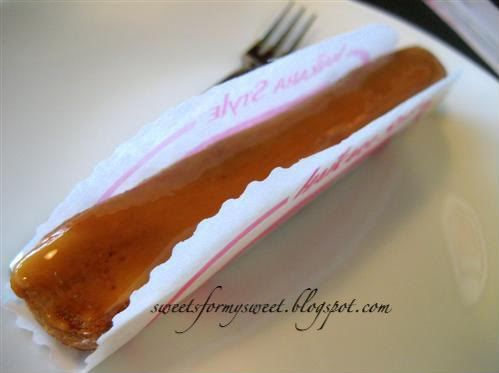 Full or not, I had already made up my mind earlier that desserts were a must! There were a few enticing selections displayed on their cake counter including a few varieties of eclairs and cake rolls. I ordered a
Caramel Eclair
(by the way it was the slimmest eclair that I have ever seen)
and a slice of
Matcha Cake Roll with a mochi center
. The eclair was irresistable.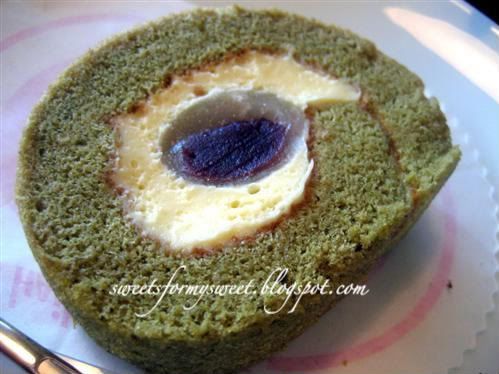 The cake roll was slightly on the dry side but it had a rich matcha flavour
(not those that tasted like 'imitation')
while the
mochi
center was quite a lovely surprise.
Although I didn't order any, there is quite an extensive selection of Japanese gourmet coffee and tea served here. A few varieties of soft and buttery bread and buns are sold here too. This outlet seems to be run by a Japanese family. Service, although not the most efficient was informal and warm.
Haikara-Style Cafe & Bakery
E-Tiara GF Jalan SS16/1, Subang Jaya
(next to Carrefour)
03-5630 0743