Hiya! Been quite a while since I last posted. Been to and back from a girlies trip to Macau and Hong Kong, and in the midst of it celebrated my birthday too! Lots of fun, shopping and eating. Will post a food review on this trip later.
Today, I just want to introduce one of my favourite place to lunch -
Dae Jang Geum Korean Restauran
t in Section 14, PJ. What I liked most are their set lunches. To me, it's quite a steal at only RM12.90++. Take a look.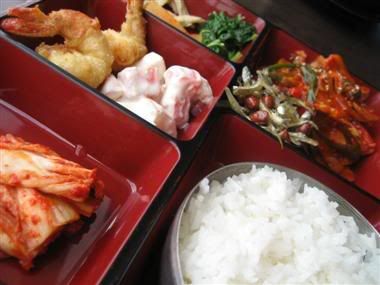 With the set lunch, you can have either beef, pork (
by the way, it's non-halal
), chicken or seafood. Except for the former, the rest are cooked in a sweet chilli bean paste sauce that I really, really like. The beef is cooked in another different sauce garnished with ginger. Not bad too. The set includes a variety of kimchis and appetizers and a bowl of rice. Besides that, you will also be given a dessert (usually a chilled korean tong shui) and some freshly cut fruits. What a bargain!
Of course, you can always opt for its a la carte menu. Here's what my colleague had, the Kimchi Soup Set.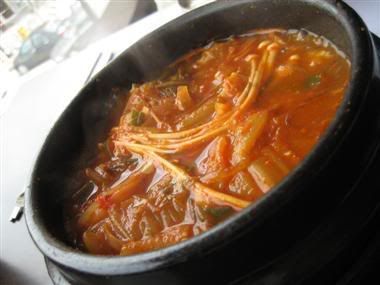 With ala carte orders, you will be served a variety of free-flow kimchi.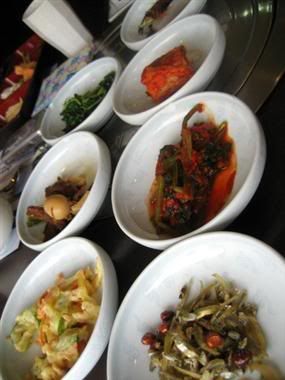 Dae Jang Geum Korean Restaurant
Section 14, Petaling Jaya
(corner shop lot, above Kemaman Kopitiam).
(* I was told that they do have branches in other parts of the Klang Valley too)
Other Review(s):
Good Food, Good Life