I have been thinking about baking a chocolate cake. A darn good chocolate cake with frosting and all things sinful. I also bought a tub of Betty Crocker's Ready-made Chocolate Frosting so I decided this shall be it, I will bake a Chocolate Cake this weekend.
If it was up to me, I would bake a dark and gooey chocolate cake. But I have to think of my family (after all, I do not want to be the only person eating the cake) and I have doubts that they share the same tastes that I do.
Then I chance upon this recipe when I was browsing through the numerous chocolate cake recipes. It looked simple enough and better yet, it seems to be reasonably low-fat as well (not to mention a very captivating recipe title as well,
"Died and Went To Heaven Chocolate Cake").
Everything went well until the final step when I stir in one cup of coffee. At that time, the mixture was very runny and liquidy. Although the recipe did say that the batter will be thin, but I wasn't sure whether can I call it a cake batter. It looked more like the consistency of some drink. Only then, I had difficulty recalling back whether did I add 1-1/4 cup or 1-3/4 cup of flour (the recipe called for the latter). Darn my slow memory!
Anyway, I tried to have some faith and put it back into the oven. I baked 10 minutes longer than asked for. Already, I had a strong suspicion that it will be more like a pudding-type cake rather than a moist cake. I tasted the crumbs and it tasted like it needed more help so I made some Butterscotch frosting from DreamWhip and Jell-O Fat-Free Instant Pudding in the Butterscotch flavour. I thought this would help.
The frosting by itself was delicious. And I think my very amateur skills in cake-decoration did fare not too bad this time. But upon cutting the cake and eagerly anticipating the taste of the cake, it was a BIG letdown. The cake was indeed pudding like and had firm up. Taste was not good. And the frosting, despite tasting delicious by itself did not go so well with the cake. Maybe if it was a proper sponge or pound cake, it would be better. Here's how it looked like: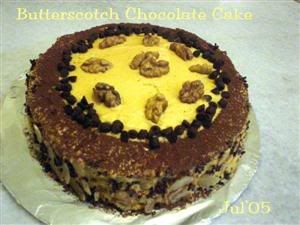 Nice to look at but....