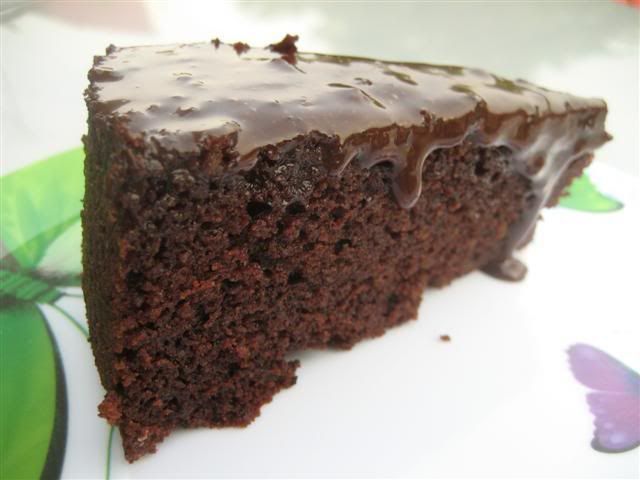 Moist Chocolate Cake topped with dark chocolate fudge
Rich and luscious, moist yet fluffy; these are the words to describe my favourite chocolate cake. Not only mine, but my family's too. Best of all, the recipe is really simple and easy. It requires no baking, but is steamed instead. Therefore, it is also suitable for those who do not have an oven. And if you do not have a mixer, no worries. Just boil and stir. Too good to be true? Try it yourself and you shall see...
Recipe for Steamed Moist Chocolate Cake
A
1 cup evaporated milk
1 cup granulated sugar
1 cup good quality cocoa powder
1 cup unsalted butter (250g)
¾ tsp instant coffee powder
B
3 large eggs (lightly beaten)
½ cup condensed milk
1 tsp vanilla extract (vanilla essence will do)
C
1 ¼ cup plain flour
1 tsp baking soda
1 tsp baking powder

Mix A together and cook over low fire until sugar is completely melted. Stir constantly to prevent burned bottom. Set aside to cool.
Mix A and B together until well-blended.
Sift C together and add into the mixed liquid mixture. Mix well until there are no lumps of flour to be seen.
Pour into a greased 8" (and lined) round pan and steam over high heat for 45 minutes to an hour. Check for doneness by inserting a skewer into center of cake.
Cool in pan for 5 mins. Remove from pan carefully and let cool completely on rack.
Serve plain or with chocolate fudge. Cake is also suitable for frosting.
*Recipe courtesy of my SIL.