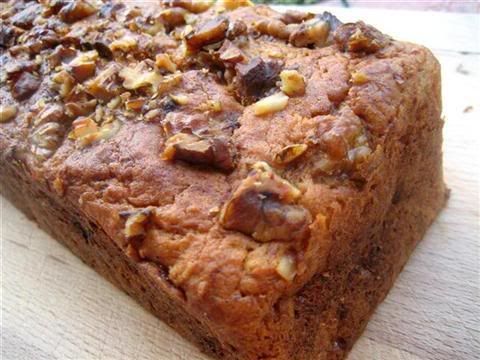 Banana Walnut Yogurt Cake
And so the baking continues, although sporadically....
Yet another version Banana Cake, I am forever in the quest of trying new variation recipes of Banana Cake. This once is a good one! Highly recommended!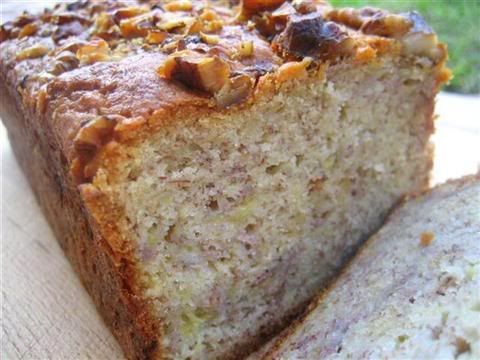 Banana Walnut Yogurt Cake (recipe adapted from "Do What I Like" blog
100g butter (softened)
50g castor sugar + 40g brown sugar (or you can just use all castor sugar)
2 eggs lightly beaten with 1 tsp vanilla
320g mashed ripe banana with 1 tbsp lemon juice
125ml plain low-fat yogurt or normal yogurt
Sift together the following 4 ingredients:
130g plain flour
60g cake flour
1 tsp baking soda
1+1/4 tsp cinnamon
Coarsely chopped walnuts or other nuts, toasted for an extra crunch (optional) ,

Method:
1. Cream butter and sugar till light and fluffy.
2. Beat in the egg mixture by thirds till well blended.
3. Beat in the mashed banana and yogurt till well blended.
4. Fold in the sieved ingredients, in 3 times.
5. Make a cut in the middle lengthwise using a wet knife. Sprinkle the walnuts on top.
5. Bake in a lined loaf pan at 175C for 55-60 minutes or till a skewer inserted comes out clean. If top browns too quickly, cover with aluminium foil.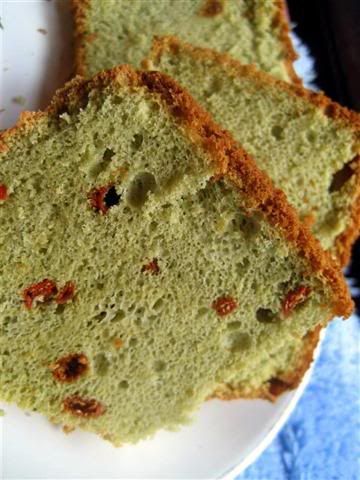 Green Tea Chiffon Cake with Wolfberries
In addition, I was playing around improvising chiffon cake recipes and came up with Green Tea Chiffon Cake with Wolfberries

('kei chi' in Chinese)

. Sounds healthy, eh? I like!