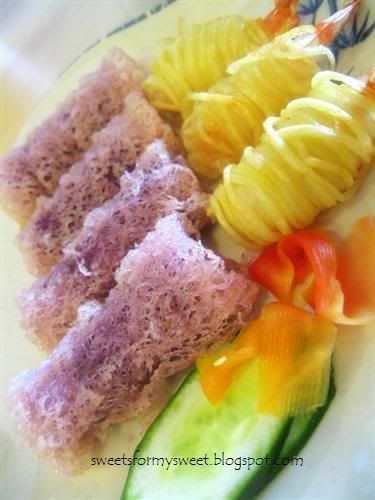 Light Bites: Sweet Potato Pastry & Crab Claw Pastry (not actual name in menu)
For someone who has a perpetual
sweet tooth
like me, I am always on the lookout for place to satisfy my sweet tooth. Recently, I was introduced to a relatively new outlet in
Millennium Square (Section 14, PJ).
I do not recall seeing any signboard but if I was not mistaken, I was told the name of the shop is
Recharge
or
Refresh
. Their menu was rather simple (at time of visit). They do have some vegetarian set dishes that rotate on a daily basis. I was more taken with their snacks menu.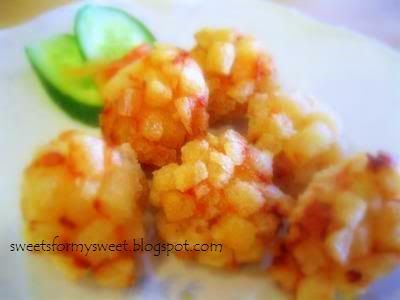 Another type of light snack at Recharge or Refresh (sorry, forgot exact name of the shop).
To be frank, I am not sure about the names of the dishes ordered since it was my lunch partner that day who did the ordering. As you can see, most were deep-fried snacks and to me tasted more or less the same
(to me).
The dish that left the most impression with me is their
Sweet Potato Pastry
(
see pic above).
Leaning more to a sweet dessert that a savoury snack and the fact that I love sweet potato (
especially the purple variety
), it doesn't take a genius to figure out why I liked this the most. Their
Special Seafood/Crabstick with Vegetables Roll
was not bad either. The rest were just average.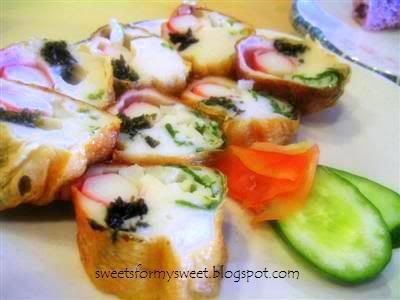 Special Seafood/Crabstick with Vegetables Roll
Finishing off with a platter of fresh cut fruits.
Opposite this outlet is a more well-known outlet,
Piccadilly
. This outlet serves quite a variety of both Western and local fare. On a separate occassion, my friend and I were at this outlet for lunch. Not feeling particularly hungry and also not particularly attracted to anything on their menu, we chose to share 1 light snack and 2 desserts.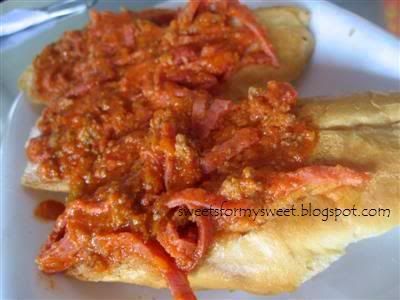 Their
bruschetta
tasted just like "
spaghetti bolognese" on a piece of toasted baguette.
It wasn't awful, but far from being remarkable.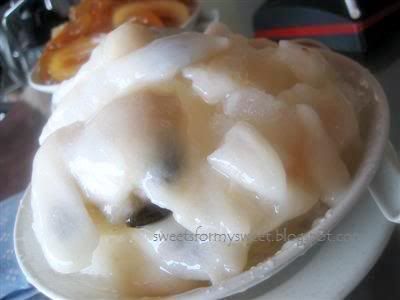 Dessert: Sour Sop on Shaved Ice
On the other hand, their
Sea Coconut on shaved ice and Sour Sop on shaved ice
desserts were much appetizing. Then again, it was a hot and humid day and anything cold would surely find favour with us.
Dessert: Sea Coconut on Shaved Ice. EXCELLENT remedy on a hot and humid day!