I wouldn't have suspected that there's a quaint litte eatery hidden on the ground floor of this new block of condominiums
(E-Tiara
, located next to
Carrefour Subang Jaya
) have I not read about it. Before going, I distinctively remember reading that the place was rather small. But I was still surprised to discover how small it was. Upon entering, there was a long table filled with little children (probably a kids party that made us felt like we were crashing their party). And that table more of less filled the entire hallway of the restaurant. What was left are a few smaller tables located near the walls. However, there are more tables available outside the restaurant.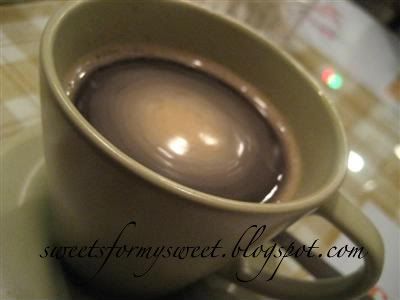 Good Illy coffee served here.
Anyhow, let's move on to food. The menu does have a few interesting choices in addition to standard western/italian fare. I had something that sounded like "combo in a blanket" which was basically a mixture of grilled beef and grilled chicken in crispy tortilla wraps. The dish was served together with side of salad.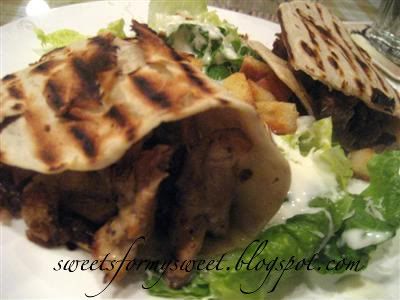 Combo in a blanket
I started with the chicken half first and found it to be tasty enough although not remarkable. I still liked it though. Then when I bit into the other half that was filled with the grilled beef, my-oh-my, it was just awesome! The grilled beef slices were tender and so well-marinated that every bite was simply yummy.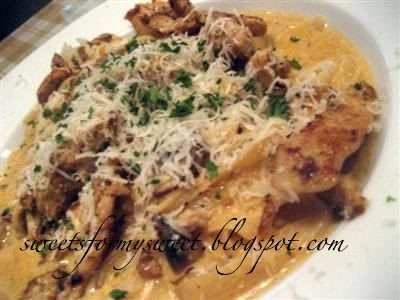 Cajun Chicken Pasta
My friend ordered their
Cajun Chicken Pasta
in creamy sauce. When it arrived, it did look a bit too creamy and "jelak" for my liking but after nicking off a few bites from her plate, to my surprise I found myself liking it. My friend who had it proclaimed it to be "
very
delicious!
" and proceeded to eat every morsel and almost licked the plate clean.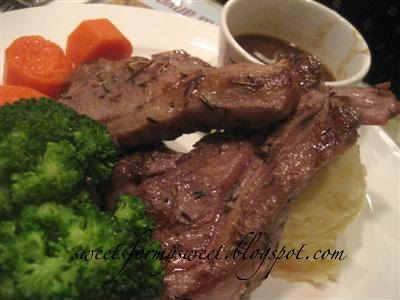 Grilled Lamb Cutlets
Another friend ordered their
Grilled Lamb Cutlets
. I didn't manage to try this. When asked, my friend commented that the dish was "ok" but pretty "average" although he did not have any problem finishing every bit of it.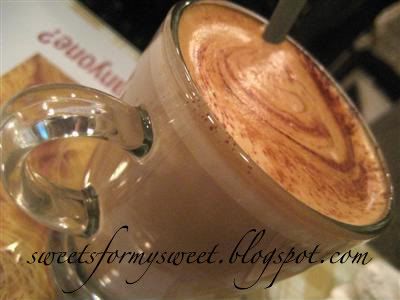 Latte
Found out that the outlet serves Illy coffee so more plus points for them! *grins* Their latte looked rather good too.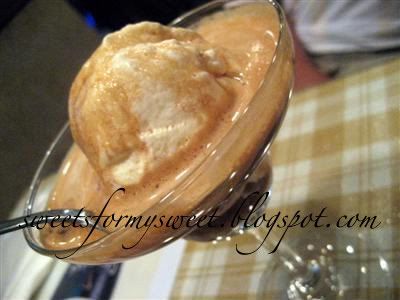 Affogato
My friend who had not tried a
affogato
(which is basically a shot of espresso topped with a scoop of ice-cream) before, ordered one for himself. However, I would only recommend this dessert for people who like espressos.
Other desserts that we ordered to share were their
homemade bread and butter pudding
and
apple crumble
.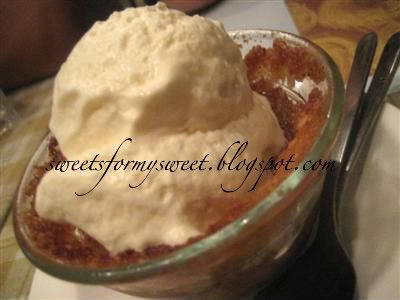 Homemade bread and butter pudding
When both were served at the same time, I had a hard time distinguishing them from each other. They looked the same.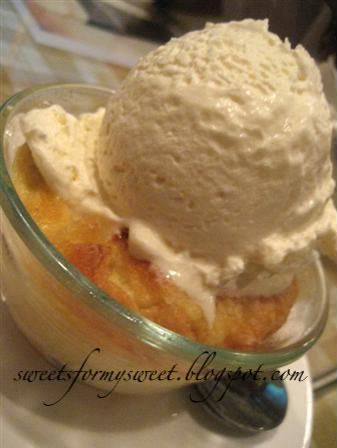 Homemade Apple Crumble
Both were alright, I guess. I have always thought that it is hard to go wrong with pairing a hot dessert with something cold like ice-cream and I was not wrong in this case. Portions were a bit small although they were pretty generous by giving a large scoop of ice-cream, speaking of which was of good stuff. In fact I wanted to ask the owner which brand of ice-cream they used but unfortunately, I forgot to do so.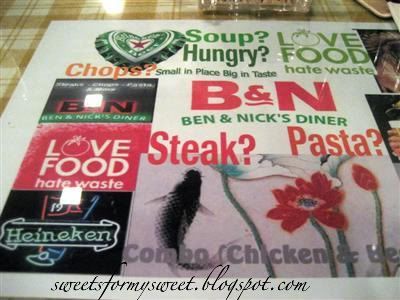 Service was good. Rather friendly and personal as most of the staff seems to be family members. Due to this however, service can be a bit slow at times. And to be safe than sorry, do make a reservation before going to avoid disappointment since the place is rather small.
Ben & Nick's Diner
Lunch: Mondays to Fridays, noon to 2.30pm and for
Dinner: Monday to Saturdays 6pm to 10pm.
Lot G10, E-Tiara Service Apartments,
Subang Jaya (next to Carrefour Subang).
Tel: 016-201 0189.