It has suddenly dawned on me that my Saturday mornings have become a routine (that is if I have no other appointments). Very naturally, I will browse my cook books or surf the net for recipes to try/make. So it came at no surprise that despite an absence of 2 weeks in the kitchen, I settled back into this "old" routine with the most natural ease last Saturday.
I didn't want to attempt anything complicated so I used
Alex Goh's
Walnut Cake
recipe. Simple and nice, his recipes have never failed me before.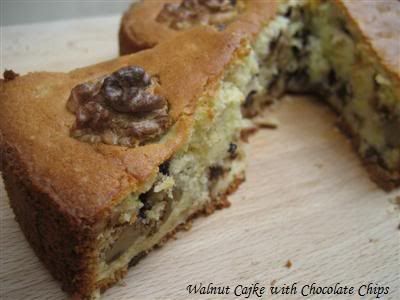 Also re-made another fave of mine,
Homemade Protein Bars
. I will post the recipe here this time.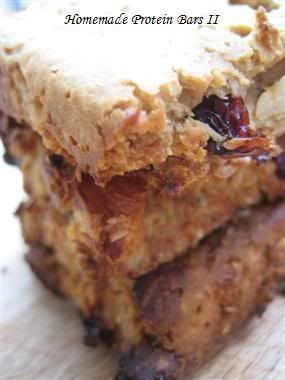 1/2 c soy milk powder or protein powder
1c wholemeal flour (or plain flour)
1c organic rolled oats
1/4c oat bran (optional or just use rolled oats)
1/4 tsp cinnamon
1/4+1/8 tsp salt
1/4 to 1/3 cup molasses sugar (or brown sugar)
1/2c mixed nuts & seeds, toasted (pumpkin/sunflower seeds, pecans, walnuts, almonds)
1/4c dried fruits (e.g., apricots, raisins & etc) or choc chips
3/4 cups plain yogurt (or replace with soft or firm silken tofu with a pinch of salt)
2T canola oil
1 tsp vanilla extract
1. Preheat the oven to 175c. Lightly spray a 8x8 baking pan with a fat-free non-stick spray (such as PAM).
2. Mix together the soy powder, flour, oats, oat bran, cinnamon, and salt in a large bowl. Mix in the sugar, mixing with your fingers till even. Stir in the dried fruits, seeds and nuts.
3. Stir and combine the yogurt, oil, and vanilla in another bowl. Add the wet mixture to the dry, and mix till thoroughly blended. Dough will be rather thick.
4. Transfer the mixture into the prepared pan, spreading it out evenly with a rubber spatula.
5. Bake in the center of the oven for 15 minutes. Remove from the oven and cut into bars in any sizes you prefer.
6. Place the bars on a silicon sheet or non-stick baking tray and bake for another 15 minutes, or until golden around the edges. (Note: The recipe stated that for extra-crunchy bars, turn off the oven and leave them in there for up to 45 minutes longer.) Remove the bars from the oven, and place them on a rack to cool.
7. Store the bars in an air-tight container or seal and freeze them. To defrost, you can toast them again in an oven or toaster to make it crispy again.