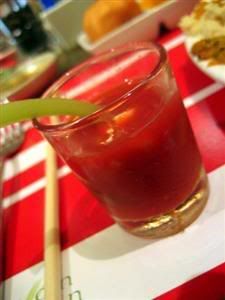 Tomato Soup served "Bloody Mary" style
Another lazy Sunday afternoon. A bunch of us were at
Lemon Garden Cafe, Shangri-la Kuala Lumpur
to celebrate a girlfriend's birthday.
I think almost if not all the tables were occupied. But the ambience was such that I mistakened myself eating in a cafeteria or foodcourt a few times. It was bright and visually captiviting, but it was also noisy and boisterous. Put these together and you will find the place being too loud. The tables were rather close to each other. In addition, I was late, reaching there at about 2p.m. while the rest of them had been there from 12:30p.m. onwards. So when I started eating half of them were already in the "desserts" stage and the rest were done with eating. I felt I was eating alone -
no
fun. I guess these factors kind of dampered my appetite a bit. I was just picking at most food, not being able to find the initiative to finish most of it. Don't get me wrong, buffet lunch at Lemon Garden was pleasant enough but I didn't enjoy it as much as I expected too. Fortunately, the company more than made up for it.
Ok, time for some photo-viewing:
From the Western/Italian Section,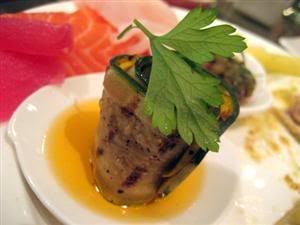 Grilled Zucchinis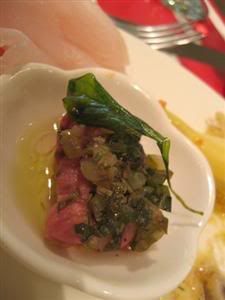 Another appetizer dish but I forgot what it was. In the background is White Asparagus which was good, particularly when having it together with their Herbed Crust Baked Salmon (this was excellent. No pic though, sorry).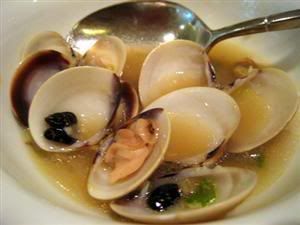 Braised Clams in broth. Not bad.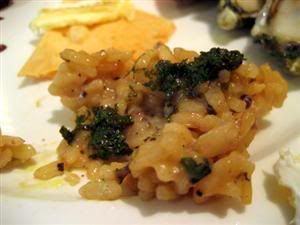 Mushroom Risotto with Pesto. In the background is some Aged Cheddar Cheese on Toast. Both were fabulous.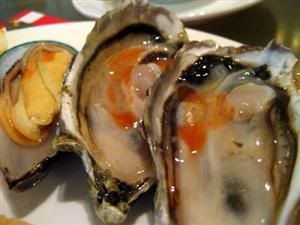 Fresh oyesters and mussels.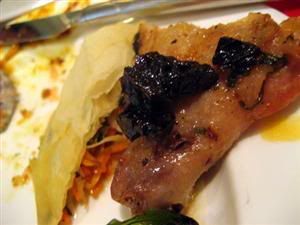 Chicken with Dates and Vegetarian Lasagna.
From the Asian/Chinese and Indian Sections:
Chinese Dim Sums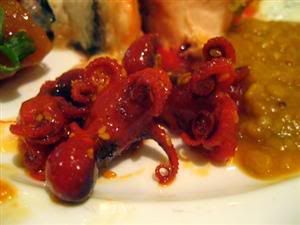 Marinated Baby Octopus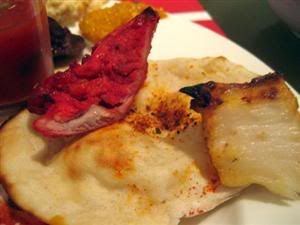 Tandoori Chicken with Garlic Naan and Dhal
Desserts Time!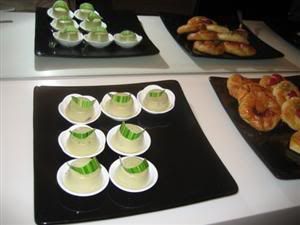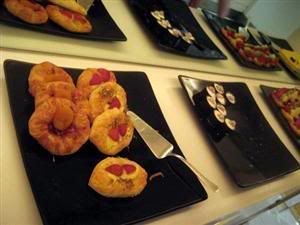 Desserts Galore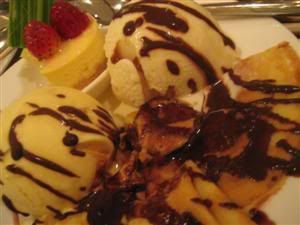 Individual Cheesecakes and Crepes served with Mango and Vanilla Ice-creams with Chocolate Sauce. The cheesecake was good and the Mango Ice Cream was divine!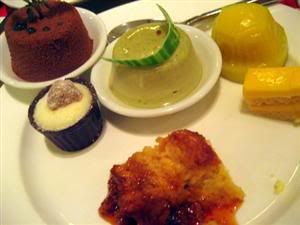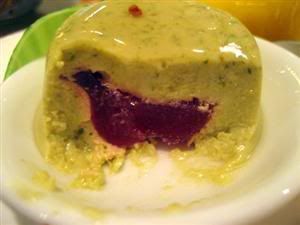 More desserts!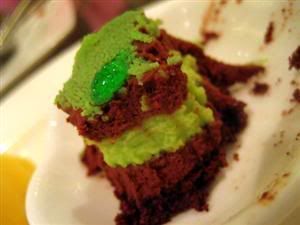 This is an interesting dessert. A chocolate-based dessert with wasabi filling. Reminds me of the Wasabi-flavoured ice-cream from Passion Flower in Sydney. Not accustomed to tasting wasabi in desserts.
Lemon Garden Cafe
Shangri-la Hotel, Kuala Lumpur
Read another
review of it by juliethebiscuit here
.