Another recipe to try for the undisputed most popular cookie among the young ones in my family - the Chocolate Chip Cookie. I was taken by the rave review that I read
here
that I thought that I must simply try out this recipe, and so I did.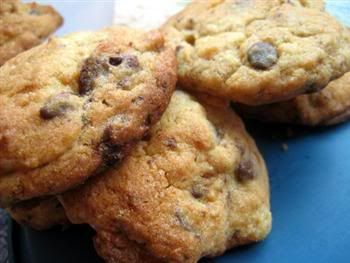 Recipe from Martha Stewart. Click the link above if you want the recipe.
These cookies turned out chewy and soft with a slight crispy edge. Although the kids polished them off at no time, they commented the cookies were a little too soft. Almost cake like. Then again, my cookies were considered "underbake" according to the recipe. It is impossible to bake them for 18 minutes in my oven even at reduced temperature without burning them. I have learned
this
too many times.
Anyhow, soft or not, they are still pretty darn good. Well, anything that has chocolate in it has got to be good, right?
For another favourite chocolate chip cookie recipe of mine, click
here
.