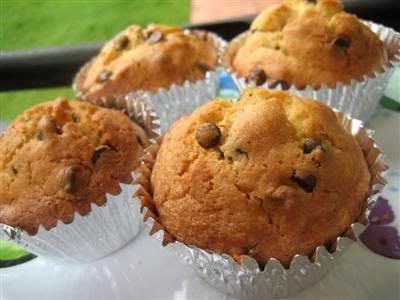 Chocolate and Peanut Butter Chip Muffins
Seems like I am experiencing a major "baker's block". It's not that I don't like baking anymore but rather, I couldn't seem to find the time and
motivation
to bake. But I still bake, occassionally. And for simpler recipes like this
Chocolate and Peanut Butter Chip Muffins
, adapted from
Martha Stewart's The Baking Handbook
. Rather good, I would say. And anything with tons of
Reese's Peanut Butter Chips
are bound to be yummy too!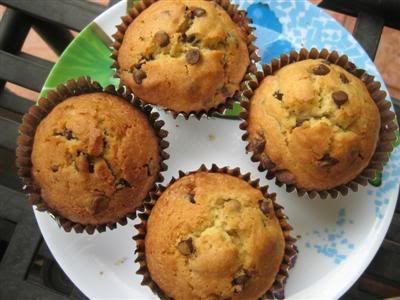 Chocolate and Peanut Butter Chip Muffins
Recipe adapted from Martha Stewart's The Baking Handbook - "Cranberry Zucchini Muffins"
1+3/4c plain flour (recipe does not require flour to be sifted but I sifted it nonetheless)
1/2t baking powder
1/2t baking soda
1/4t salt
2 Large eggs
1c sugar
1/2c vegetable oil
1/2t pure vanilla extract
1c of chocolate chips and peanut butter chips combined
Method:
1. Line muffin pan with muffin/cupcake liners.
2. Preheat oven to 375f .
3. Whisk together together the first 4 (dry) ingredients in a bowl.
4. In another bowl, whisk together the next 4 (wet) ingredients.
5. Add the flour mixture to (4) . Stir to combine but DO NOT OVERMIX*. (*which will result in dry and lumpy muffins)
6. Gently fold in the chocolate and peanut butter chips.
7. Divide the batter evenly into the muffin cups. It should come up to 80-90% full of each cup.
8. Bake for about 25-30 mins or until the top is golden brown and the skewer comes out dry when inserted into the center of the muffins. For even baking, rotate the pan halfway through.
9. Transfer to the wire rack to cool for about 5-10 mins before turning them out from the pan to cool completely on the rack.