Didn't plan it this way; but somehow all the dishes we ordered that night happened to be courtesy of
Porky Bess
.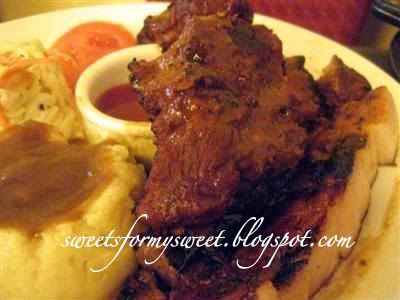 It seems like more and more outlets that specializes in
non-halal
dishes are springing out. This one is closer to home although not exactly
new
. Reading
this article
, it reminded me that I did previously plan to try this place but never got around to it until now.
The restaurant seems cozy and family-like. On the other hand, it was a little bit too dim and the tables were rather too close to each other which might just be a nightmare for the claustrophobic.
A healthy(
ier
) start to what's to come later, we shared the
Grilled Bacon Salad.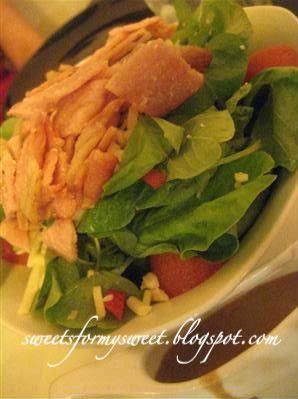 Grilled Bacon Salad
Tagged as
"Must Eat"
in the menu, the salad was described as
crispy streaky or back bacon on baby spinach, tomatoes and chillies with creamy balsamic dressing.
But we could have sworn that those grilled bacon were fried ham slices instead. It sure tasted that way although not in a bad way at all. I was happy that the salad came with plenty of fresh baby spinach leaves although the same couldn't be said for th tomatoes and chillies (
chillies? what chillies???).
Liked the salad dressing and the fact that the it was served on the side.
Then came the sausages. I ordered a combination of
Pork Chorizo
(

another "Must Eat" dish
)
and
Pork Oriental.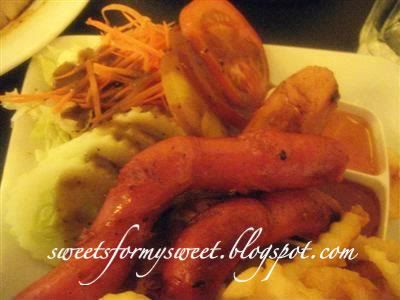 Combination of Pork Chorizo Pork Oriental sausage.
Served with fries (
good texture but too salty
) and some simple salad, the
Pork Oriental
reminded me of those
sweet-ish Taiwanese sausages
. The
Pork Chorizo
on the other hand, was not bad.
I was told that the "
stars
" of this restaurant must be their
Grilled Pork Belly
and
Grilled Spare Ribs
. Fortunately for the customers, a
Mixed Combo
of these two are available.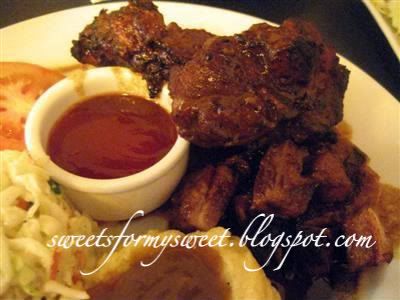 Mixed Combo: Grilled Pork Belly and Grilled Spare Ribs
Served with a scooped of mashed potatoes (
average
) and coleslaw (
this was pretty good!),
we enjoyed both. The succulent pork belly was first marinated in
manipur
sauce before being grilled. The spareribs were mostly tender although there were some chewy bits. I wouldn't rank them as my favourites but that doesn't mean that I did not enjoy every bite of the meat as witnessed by our empty plates with only totally licked-clean bones on them at the end of the meal.
The desserts selection were pretty uninspiring. Nevertheless, we still ordered
Cookies n Cream Ice-cream Cake
when we discovered that they use
Movenpick
ice-cream.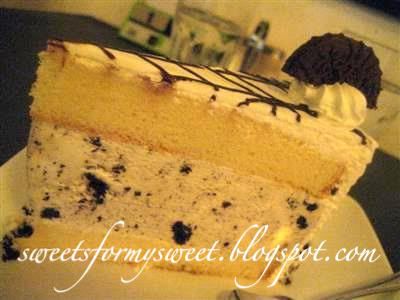 Cookies n Cream Ice-cream Cake
Nothing fancy here. It's just ice-cream sandiwched between 2 layers of plain sponge cake and frosted with sweet whipped cream.
I think I have made a similar cake before
. Anyway, at the very least, the ice-cream was still enjoyable.
Prices were fair. The dishes above ranged from RM18 to RM25. Desserts are about RM8 onwards.
WENDY'S BISTRO
(
Non-halal)
20, Jalan PJS 8/18,
Dataran Sunway Mentari, Petaling Jaya
Tel: 03-5630 1699