If there is ever such thing as the most suitable name for a lady, I would say that it is
Victoria
. So when there is a cake known as
Victoria Sponge Cake
, I couldn't help but to think it must be created for a lady. That said, I never bothered to check on the history of this cake (you can do a search on the Net to find out more, if you are so inclined) so I would just stick to my own presumptions until told and proven otherwise.
This is a rather simple cake, strawberry jam sandwiched between a basic sponge cake sliced into 2 and dusted with icing sugar (optional). However, I felt as it the sponge cake can be further improved. I am still looking for the perfect cotton-y soft sponge cake recipe.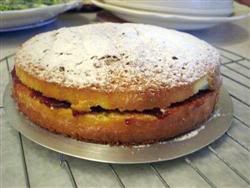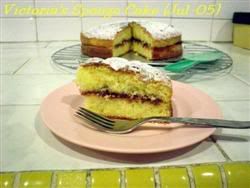 On the other end of the scale is a cake known as
Devil's Food Cake
. I read somewhere that its namesake came about due to the dark colour of the cake. I sure hope so,
duh
...Here's my attempt at baking this cake.