Cupcakes! What more can I say about cupcakes? I mean, it is almost a basic and fundamental recipe to bake for wannabe bakers. Honestly speaking, I am not a fan of cupcakes and hence, have no impulse to bake cupcakes till now. Why the sudden interest? Well, I have been visiting a few food blogs lately, and was very impressed with the often cute or gorgeous looking cupcakes. I mean, how can you not like a the look of a nicely frosted cupcakes? Anyway, after viewing one particular recipe on a member's blog, I decided to make my first "fancy-looking" cupcakes. (Also helped by the reminder that I still have a tub of ready-made chocolate fudge frosting left in the fridge).
This recipe is a relatively healthier option in the sense that it uses less butter. The recipe is called Neopolitan (that means a combination of vanilla, chocolate and strawberry as in the ice-cream flavour, get it?) Buttermilk Cupcakes. These cupcakes are rather good. Moist and good, although the 2nd batch were slightly over-baked (I seems to have a habit of doing this!) resulting in a more chewy texture. For me the recipe yields 6 medium size cupcakes and 6 smaller ones.
In short, I have to say it was quite a joy looking at the end result of the frosted cupcakes.
Fresh out from the oven and before frosting.
(Note the different colored layers)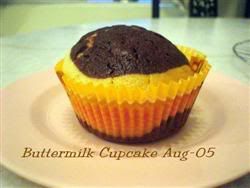 After frosting.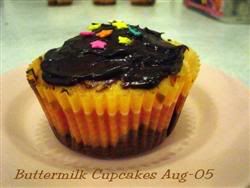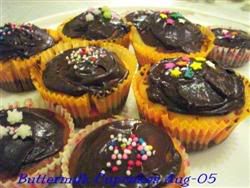 The kids digging in!