Another sweet temptation to add to my ever-growing list....
Just found out how easy it is to make our own frozen yoghurt ice-cream and even more surprise to find that it is really good too. And to ease my sense of guilt, it is relatively low-fat (
for an ice-cream)....
Vanilla & Chocolate Swirls Chocolate Chip Yoghurt Ice-Cream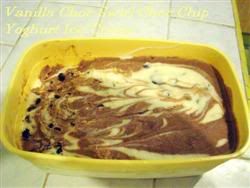 See the bits at the side? I couldn't wait to dig in before taking a pic!