Been a long 15 days. 15 days of overindulging in cookies, savouries and basically all edible stuff. This is the typical scenario of a Chinese Lunar New Year (CNY) season. Today marks the end of CNY. Finally the official excuse to over-indulge is no more. For this occasion, I made a simple
Vanilla Pudding Fruit Pie
. Simple, not to rich and a good way to use up the abundant supply of mandarin oranges sitting at home (
although I would suggest that canned mandarin oranges are better than using the fresh ones unless you are sure the fresh ones are very sweet, seedless but make sure that you remove all pith).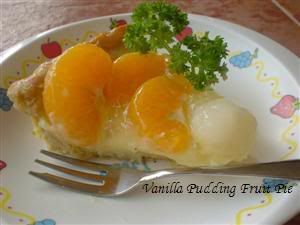 To make
, bake a pie crust. Then prepare the custard. I like the recipe found
here
. Pour the slighty cooled custard into the cooled pie crust. Assemble fruits on top and glaze with piping jelly or apricot glaze.