Ok, this is strictly for the kids. Then again, maybe not. I know of many grown adults who are fixated on Oreos. I used to love them too when I was younger.
Anyhow, this is another recipe that I have been wanting to try out. So when I noticed a packet of unopened Oreos (which I have been saving to make a cheesecake base but was not in the mood to make a cheesecake) nearing expiry date, I decided "
this shall be the day to try the recipe out
".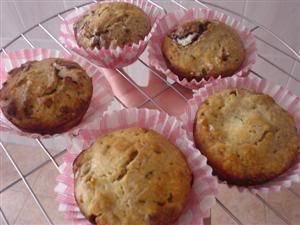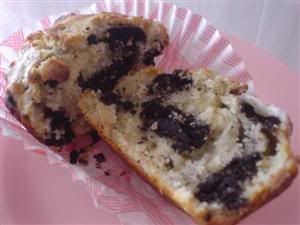 Cross-section: Studded with chunks of Oreo cookies.
Maybe all along I had very high expectations on how these muffins would turned out; or maybe my muffin-making skills need some brushing up, these muffins were not what I expected them to be. Average would be how I would desribe them to be. *sigh* I think the fault is most likely due to my muffin-making skills. My
previous batch of muffins last week
were also
less than excellent.