I like baking but I seldom cook. Well, yesterday was one of the rare incidents where I actually cooked a dish for my family's Sunday dinner.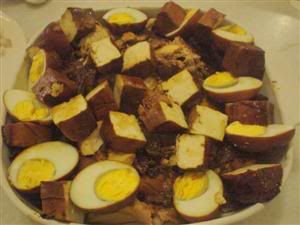 Braised Black Sauce Chicken

buried under a bed of eggs and beancurd.
When I first saw a photo of this dish
here
, my first thought was what a delicious-looking chicken it is. And when I saw that the recipe wasn't too difficult, I decided to give it a try. The only near-mishap was much to my frustration, I discovered that the jar of "sweet sauce" (aka tim cheong) in the fridge was in fact "sweet hoisin sauce". I contemplated on using it but in the end, took the author's 2nd option that is to substitute the sweet sauce with some liquid molasses and brown sugar.
The entire cooking time was close to an hour. The end result? Well, it was nice although different from our usual dishes. You see, my mother almost never used spices (such as clove, cinnamon and star anise) in her cooking. It took my family some time in getting used to the taste. But overall, I would say it was worth the effort.