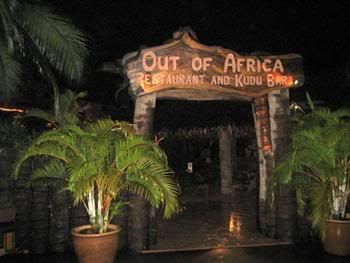 Out of Africa?
I thought I was
"in".
Hehe, bad joke aside, it was quite an experience dining at
Out
of Africa
. Who would have thought a place like this exists in
Kelab Syabas
? Ambience is kind of rustic yet serene and relaxing at the same time. Menu is rather extensive with some of the most imaginative names I have come across (meat lovers will definitely love this place) and servings are really waistline-challenging.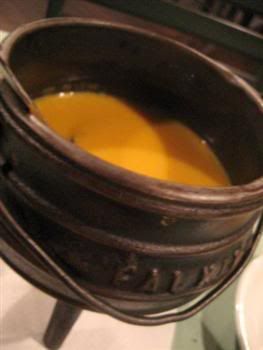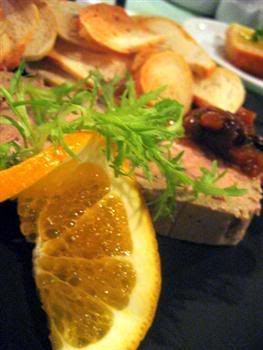 Pumpkin Soup in mini cauldron and Chicken Liver Pate
My friend and I shared a
Chicken Liver Pate
and
Pumpkin Soup
as starters. The latter is served in a mini cauldron with really tasty garlic toasts. Pumpkin soup was definitely good, warm yet tantalizing and perfect for a rainy evening. The liver pate came in a generous chunk with toasts and some sweet chutney. Rich and creamy, I was surprised (and slightly appalled) that we nearly finished the entire block.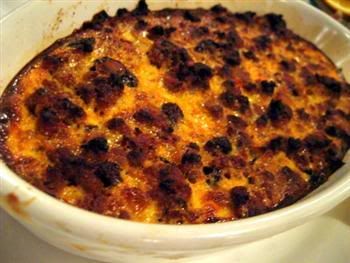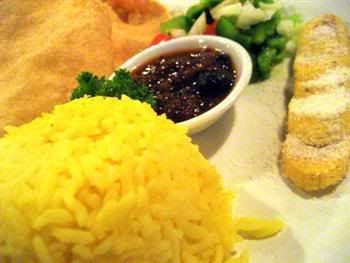 Bobotie Set
For main, we ordered something that sounds like
Bobotie
. Described as a common dish in Africa, it is supposed to be a very mild dry beef curry. The sight of it was not really appealing and unfortunately, so was the taste. It was too dry and the accompanying rice, crackers (papadam), and slices of bananas (yes, very strange indeed) did nothing to elevate the problem. The only thing I liked were the sambal-like condiment and the side salad.
Warm Whisky Sticky Toffee Pudding with Ice-cream
A meal is not finished without dessert so we ordered a
Warm Whisky Sticky Toffee Pudding
to share. Definitely very sweet but it was still yummy when eaten together with the accompanying ice-cream. In my opinion, one can hardly go wrong with the classic combination of warm & cold dessert. Then again, I would definitely not mind if they were more generous with the whisky though.
For something different and exotic,
Out of Africa
is definitely worth a try!
Out of Africa Restaurant and Kudu Bar
Inside Kelab Syabas, PJ State
Tel: 03-7955 3432