This is a very belated post indeed. Blame this on the recent unpredictable internet connection.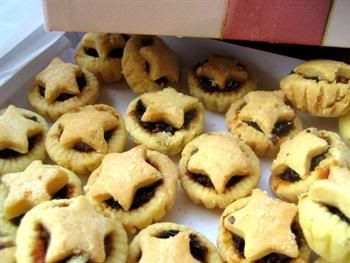 Last month, I particpated in the
Christmas Flog Exchange
organised by Hinata of
The Hinata Diaries
and Joone of
Nibble Scribble
. It's similar to a Christmas gift exchange cum Blogging-by-Mail concept. Basically, you write a food-related Christmas wish. Once compiled, all the participant's wishes will be published on the organizers' blog. You choose someone else's wishes to fulfill and you will be paired up with your wishee.
I wished for a
"Christmas-related" surprise
and a surprise was what I got! Albeit a very pleasant one... My secret santa was
Umami
and she sent me a lovely box of home-made mini Christmas mince pies. When I mentioned 'lovely box', I really mean it in a literal way. Just take a look, such a beautifully decorated box!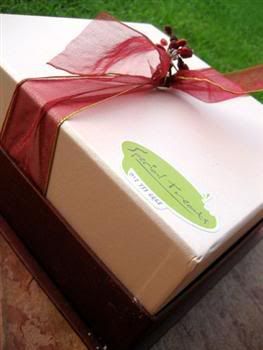 The mince pies were made by her sister who runs a small catering business named
Special Treats
in KL (tel: 012-3336668), specialising in finger foods, cupcakes and western dishes. What can I say, the mince pies were absolutely yummy! Sweet fillings encased in delicious buttery crusts, they are pretty addictive and were gone in no time as the little ones at home could not get their fingers off them!
Thanks to Umami for providing such a delightful treat that made it seems like Christmas all over again, and to Joone and Hinata for organizing such a fun event!
If you are curious about what I got for my
wishee
, take a look
here
.
:o)