Happy New Year everyone!
Hope you had a wonderful break over the weekend. I spent mine in Langkawi. Good food, fun company, balmy weather, bright nights, soft sandy beaches and flowing champagne… It was indeed fun and memorable!
One of the places that I visited was
THE LOAF Bakery and Bistro
at Telaga Harbour Park, a Japanese-styled bakery opened by Tun Dr. Mahathir.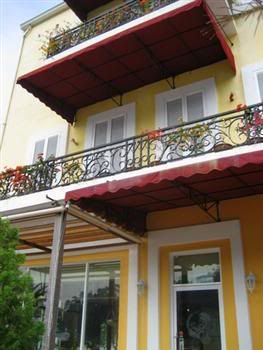 There was much hype from people who had gone there before, ranging from absolutely gorgeous bread to exorbitant prices! So I had to see for myself even thought that means waking up early in the morning after a very late night on our last day (my flight was in the morning too) for a 15 minute drive to this place. But no regrets one bit, the harbour-fronting bistro was lovely with gorgeous yachts view so much so that for a while, I imagined myself being in Monte Carlo or some place like that.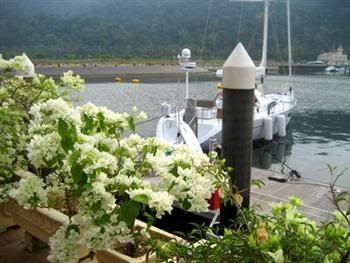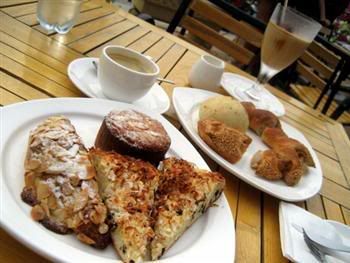 Although breakfast sets are available, we ordered some freshly-baked breads from the shelves with coffee instead and had our breakfasts sitting outside near the waters.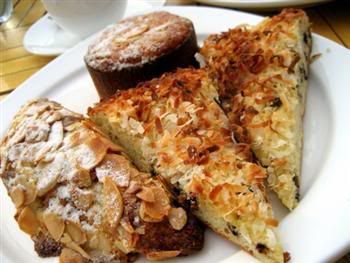 Almond Cream Earl Grey Brioche, Almond Croissant, best-selling Toasted Coconut Flakes
(if I remember correctly, it is a flat-type of sweet brioche). I immediately fell in love with the Almond Croissant and the Coconut Toast. As far as I could remember they are among the best breads that I have tasted in Malaysia!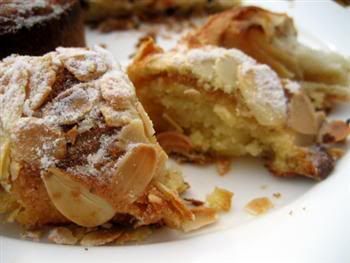 Look at the inside of the warm & buttery croissant!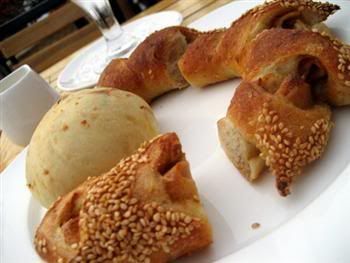 These were what my friend ordered. Couldn't remember their names but they are the savoury types. Not bad but can't beat my croissant and Coconut Toast!
Their coffees were good too, very strong and gave me the much needed "kick" to fully wake me up. My friend ordered their house special Iced Latte. Truly special, I would say. It came in 2 frozen cubes of coffee in a tall glass. Hot milk was then poured over it, instantly melting the frozen coffee cubes and voila, Iced Latte!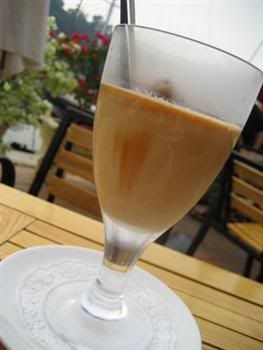 The Loaf
also has a proper dining menu (and even a chef's degustation menu). Expect prices to be on the high side. Baked goods averaged about RM5-8 per piece. One small loaf of raisin bread costs RM10. Coffee was about RM8 and the Iced Latte was about RM12. If you are keen on trying out this place, do not despair if you are not traveling to Langkawi anytime soon for the chef told me that they will be opening an outlet in the soon-to-be completed Pavilion in KL. So keep a watch out for it!
The Loaf Bakery & Bistro
Telaga Harbour Park
Pantai Kok, Langkawi.
Tel: 04-959 4866