My friend and I were at Izzi, Damansara Uptown recently to take advantage of the HSBC Special Promotion (which ends on 18th Sep.) in conjunction with their opening whereby cardholders are entitled to 75% discount of the total bill for every spending above RM100 per bill.
Initially, we didn't know that the minimum spending has to be RM100 per bill in order to be entitled to the discount. So we had to literally racked our mind to order more food than usual or choose the pricier items in the menu....
(
kiasu but so what...)
It turned out we need not worry, the portions weren't large at all. I am not sure if what we had that night was their standard serving size or whether did they downsize the dishes in view of the 75% discount. But if it is the former, I have to say that their serving size might be too small for what they are charging for it given the fact that this is not a fine-dining restaurant.
Back to their food, this was what we ended up ordering: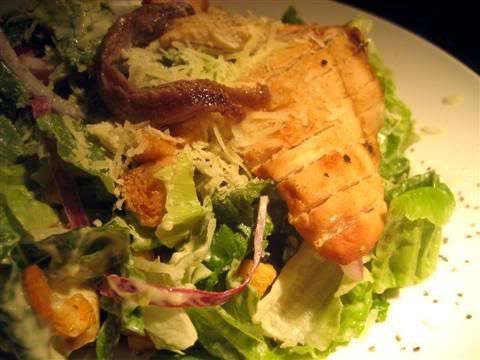 Caesar Salad (1/2 portion - RM12.80) with Grilled Chicken (add RM6.80)
The chicken looks dry in the picture, right? Well, it was. Dry and tasteless. Shouldn't have added the chicken. The salad was nothing to shout about. Just average although it comes with 2 salted anchovies.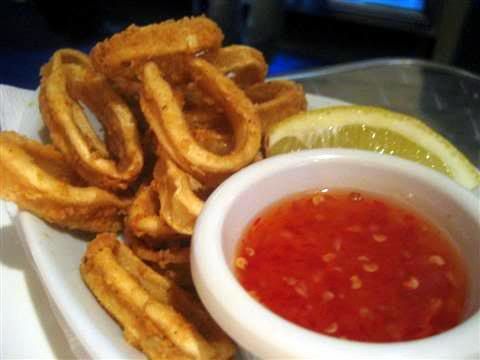 Deep-fried Calamari Rings (RM13.80)
Batter was not crispy enough. Calamaris were slightly too chewy and rubbery. Not much taste but thank goodness for the chilli sauce.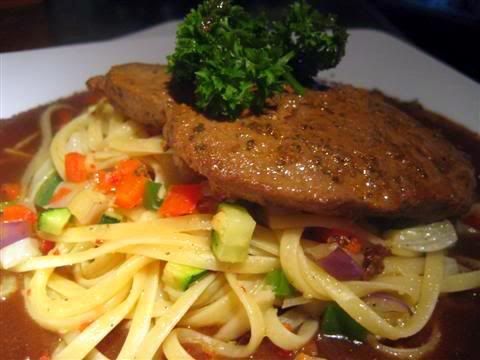 Roasted Imported Steak with Ratatouille Pasta with Balsamico Sauce (RM36.80)
We asked for medium done. Eee.., so not impressed with this dish. I have never seen such as thin slice of steak except maybe at kopitiam that serves western food. Looks more like a pan-fried pork chop and the pasta tasted like a chinese-style fried mee with chopped vegetables.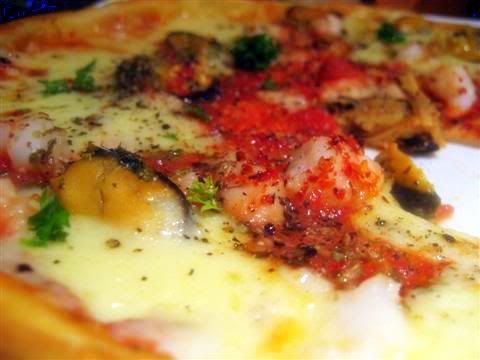 Pizza Marinara (Regular: RM27.80)
This was not too bad. At least the seafood, tomato sauce and cheese tasted fresh. Regular is actually an 8-inch pizza. Not generous with the seafood too.
My review sounds pretty bleak so far, no? Well, all's not lost. Thank goodness for desserts. They have quite a selection of delicious-looking desserts on display in a glass counter. Initially we only wanted to order one but yielded to temptation since most of them looked so yummy!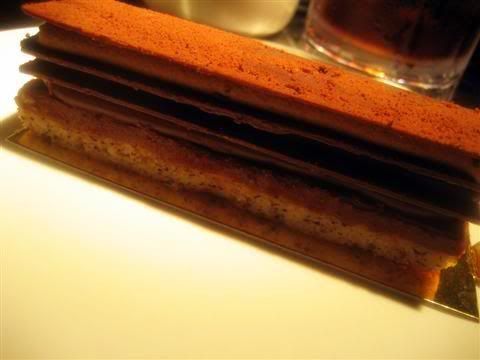 Sweet Pleasure (I love this dessert after tasting it at Bakerzin and later at where it originated from, Pierre Hermé in Paris where it was known as Plaisir Sucré). Their version, with the layers of hazelnut dacqouise and praline, milk chocolate ganache, milk chocolate with whipped cream in between layers of thin sheets of chocolate, still managed to satisfy my sweet tooth although not as refined as its more famous predecessors.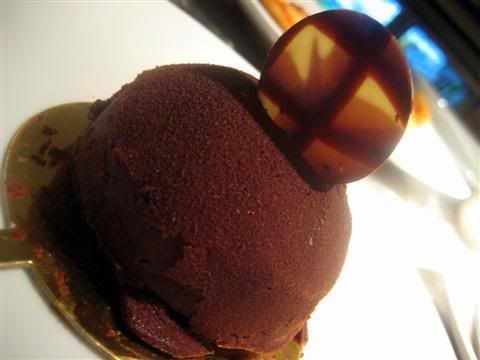 I forgot what this was called. But it has layers of chocolate mousse flavoured with Earl Grey tea with a raspberry syrup center on a light layer of chocolate sponge and coated with dark chocolate.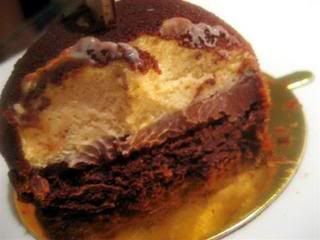 Not bad too with the light hint of Earl Grey.
The total bill came up to about RM50 (after 75% discount) for all the above inclusive of 2 bottomless Cokes. For this price, the meal was rather a bargain despite its less-than-impressive main meals. But without the discount, I would not plan to return although I might make an exception for their desserts....
IZZI Italian & Asian Cuisine
Damansara Uptown (
2 doors away from HSBC and Starbucks)
Telephone and Delivery : +603 77290855