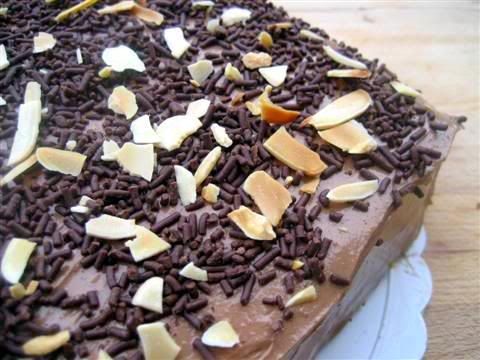 My darling Julius turned 2 months not a couple of weeks back. I suddenly felt the urge to bake to mark the occassion so I baked a really quick and easy simple Chocolate Almond Cream Cake. But poor Julius, he won't be getting any of it (I didn't want to encourage him to have a sweet-tooth although his mistress is already one). Chocolates are bad for dogs anyway...
To make the cake, combine 2 cups of water, 600g of sugar, 35g cocoa powder, 1t baking soda and 250g chopped butter in a heavy-bottom pot and heat without boiling till all the sugar is dissolved. Then, bring the mixture to a boil and let it simmer for about 5 mins. Turn off heat and let it cool a bit. Transfer to a mixing bowl and stir in about 450g of sifted self-raising flour and 4 eggs. Beat till mixture is smooth. Pour into a greased and lined 8" pan and bake at 175c for about 45-50 mins or when cake is done when tested with skewer. Cover top with foil if it browns too fast. Cool for about 5 mins in pan before removing it and transferring to the rack to cool completely before frosting. Once completely cooled, slice into 2 layers before sandwiching them with buttercream.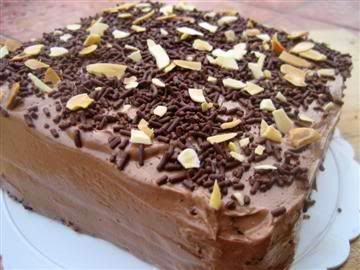 For the buttercream, beat 125g softenend butter, 125g margarine and 80g icing sugar together till light and fluffy. Add in about 100g melted cooking chocolate (cooled) and mix till even. Frost cake and sprinkle with chocolate rice and toasted almond flakes.