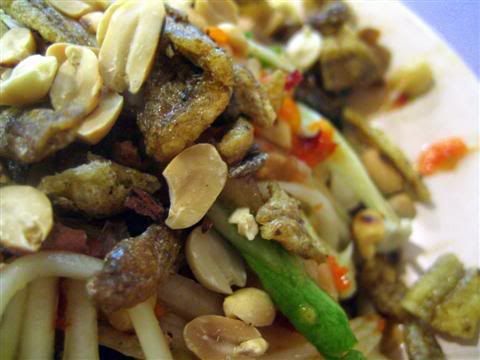 Som tum (classic green papaya Thai salad)
I have a thing for
som tum
(classic green papaya Thai salad). In Bangkok, it's so easy to find a good one since they are like a staple to them. Just like our nasi lemak. Sadly in KL, it's not so easy to find good som tum.
However, recently I have found 2 which were pretty good for a "Made in Malaysia" version.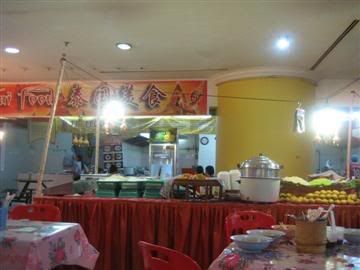 First one is a "no-name" restaurant on the
first floor (

or was it the 2nd?

) in Summit USJ (

use the escalator nearest to Black Canyon which is located on Ground Floor. It is located very near to the escalator

)
. Not sure if I can even call it a restaurant, it looks more like a food court. There's no proper signage except a banner that says
"Thai Food".
They have quite a selection of hawker-styled Thai food. This place is pretty hidden in a corner. In fact, I only discovered it by chance. When I was there, business was rather slow although it was during lunch time on a weekend. Probably due to the fact that not many people could have known about their presence.
Food here seems pretty authentic. Anyhow, my eyes were drawn to the
som tum
making station and I quickly ordered one (
see pic above
) and it was pretty good. The salad (
RM4
) here was well-seasoned and well-pounded and topped with generous sprinkles of crunchy anchovies and roasted peanuts. It packed quite a punch too even for me who loves spicy stuff and can usually tolerate high level of spiciness. My lips were pretty numbed after finishing the salad. But one can always asks the waiter to adjust the level of spiciness according to your preference.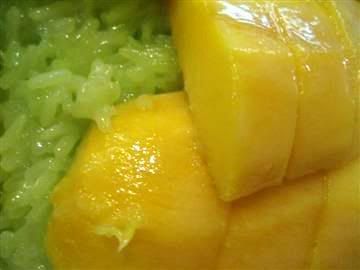 Sweet mango with pandan-flavaoured sticky rice
To help reduce my "flaming lips" from consuming the som tum, I ordered the
sweet mango with pandan-flavaoured sticky rice
. It looked yummy but
eeew...,
bad choice. The mango was definitely not sweet. And I suspected that the coconut milk that they lathered on the dessert wasn't so fresh either. I couldn't tolerate more than a couple of mouthfuls.
In the same shopping complex, you can find
Black Canyon
(
located on Ground Floor
). If you have been to Bangkok, you will know that
Black Canyon
is pretty popular there and they have outlets all over the city. Over there, I like their version of
pad thai
very much. Over here, it is their
Spicy Tuna Salad.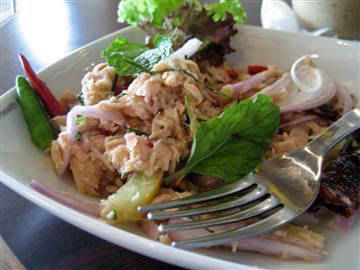 Spicy Tuna Salad
It tastes like som tum but without the green papaya and other vege. Only chunks of tuna and baby onions with lemongrass in a spicy and tangy light dressing. Very refreshing and very appetizing! Serving size is not consistent though. And sometimes they served this with more leafy salad greens on the side, other time, it's just ONE leaf (
the picture in their menu portrayed otherwise
). Sometimes, they serve this with whole raw baby chilli (
cili padi
) on the side, and other times, just a few stalks of dried chilli. But taste wise, it has been pretty consistent so far. Very nice indeed!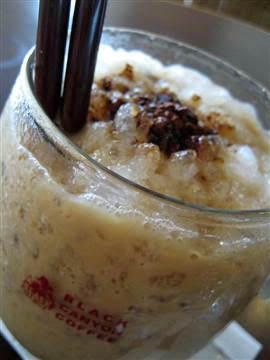 Iced Black Canyon Coffee
They have a pretty comprehensive coffee menu as well. Their coffees are not bad too.