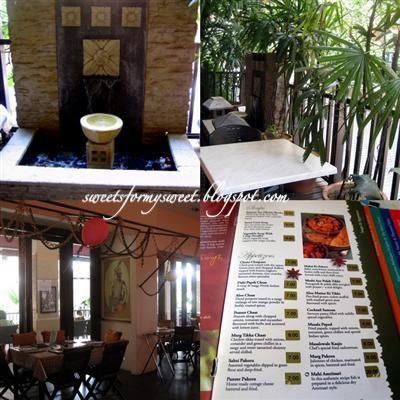 One of the highlights of being a foodie is the enthusiasm to try different types of cuisine. Speaking of which, it has been quite a long time since I last savored Northern Indian cuisine. Hence, the timing was spot-on when I was invited by
FoodStreet
for a food review at
Khaana Peena
in Mont Kiara, that specializes in authentic Northern Indian cuisine.
The interior of the restaurant is tastefully decorated, with lots of wood and open space. My lunch date and I opted to dine alfresco at the patio outside since it was a pleasant and rather breezy Saturday afternoon. The sounds of water cascading from the Balinese fountain in the background further enhanced the rather calming and relaxing ambience.
I took time to admire the artfully-crafted menu (
which by the way is amazingly extensive).
I admire the fact that the proprietress,
Madam Deepanjali
through her menu, tries to provide diners with a deeper insight into the rich culture of India as depicted in the beautiful and enchanting photographs pictured alongside each page.
Dishes in
Khaana Peena
focus on ayurvedic properties which are known to promote cooking and eating for greater balance, better health and bliss. Hence, it is not surprising that a variety of dishes are healthy and low-fat. Freshness is the key word here. Everything is prepared fresh
ala minute
including the staple complimentary starter, the pappadum. Super light and ultra crispy, we have no doubt over their claim.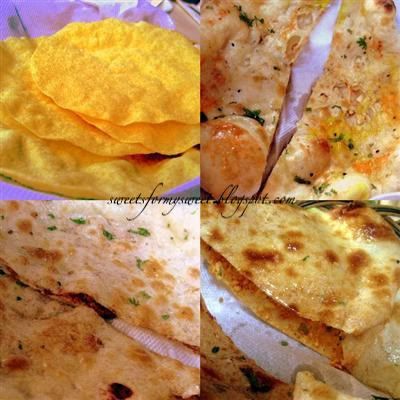 Clockwise from top left: Fresh pappadums, Stuffed Naan with Minced Lamb, Stuffed Naan with Cottage Cheese, Stuffed Naan with Dried Fruits
Northern Indian dishes are usually distinguished by the generous use of milk, cottage cheese, ghee, yoghurt as well as lentils. One of my favourite Northern Indian dish is the
Palak Paneer
. The creamy spinach gravy with cubes of homemade cottage cheese goes perfect with fluffy naan or rice. The naans that we had were stuffed with 3 types of mouth-watering fillings;
minced lamb
,
cottage cheese
and the
dried fruits
, with the last
(which tasted slightly sweetish
) being my favourite. The
stuffed naans
are great with the thicker curries and gravies but they are also as delicious when eaten on its own especially when they are still warm. We were also served with a generous portion of
Vegetables Pulao
. A marvelous blend of exotic Indian herbs and mixed vegetables makes this preparation a rice lovers delight.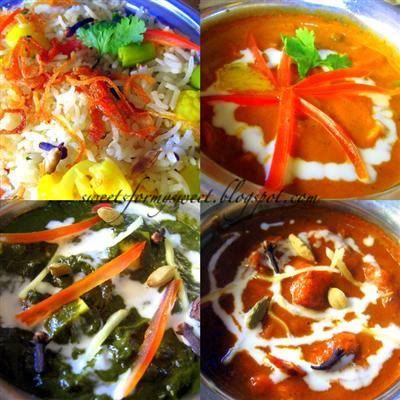 Clockwise from Top-Left: Vegetables Pulao, Palak Paneer, Murg Makhawala, Navratan Korma
Aside from
Palak Paneer
, another dish that goes very well with naan and rice is the
Navratan Korma
, which is basically a rich cashew nut gravy cooked with nine different types of vegetables. For a meat option, a recommended dish is the aromatic
Murg Makhawala
, a thick curry-like dish with pieces of tandoori chicken cooked in creamy sauce with hints of masala.
Other Northern Indian cuisine staples include the tandoori meats and kebabs. At
Khaana Peena
, a wide selection is offered.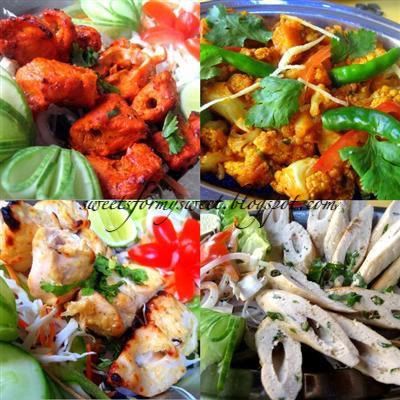 Clockwise from Top-Left: Murg Afghani, Garlic Chicken Tikka, Reshmi Kebab, Gobi Aloo
For a slightly different twist to the standard tandoori chicken, the
Murg Afghani
is recommended. Ginger garlic paste is added to chicken marination before being grilled to perfection. The meat is quite juicy, tender and mildly spiced enough to allow the natural taste of the meat to come through.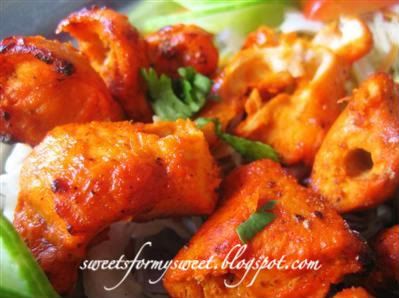 Juicy and tender Murg Afghani
In contrast, the
paler-looking Garlic Chicken Tikka
which is essentially cubed boneless chicken grilled in medium hot tandoor has a subdued taste of smoky charcoal flavour that seeped into the meat while cooking in the hot tandoor oven. For something light, a suitable but no less deserving alternative is the
Reshmi Kebab
. The extra smooth kebab is made from chicken mince that is delicately flavoured with pepper and rolled along the length of the skewer. Too much meat? Then one must not miss the
all-popular
Gobi Aloo
, a dish that needs no introduction I reckon. Made with cauliflower and potatoes that are cooked with a enticing blend of spices, it was delicious vegetarian dish.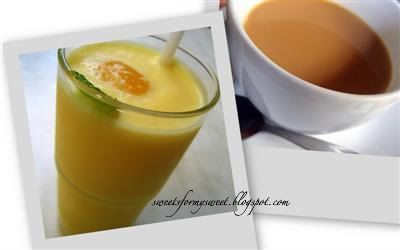 Left to Right: Creamy Mango Lassi and Milky Chai Masala
We finished off the very enjoyable and fulfilling meal with the cool and refreshing, yet utterly delicious
Mango Lassi
. One can also opt for a hot cup of aromatic
Masala Chai Tea
which will be perfect for winding down. For the coffee aficionados, it is also interesting to note that
Khaana Peena
serves a rather broad selection of coffee beverages
(I counted 18 of them).
Other than ala carte, the restaurant is currently running some very affordable breakfast sets and set lunches promotions. Prices start from just RM8 for breakfast sets and RM11 for set lunches.
This is a food review invitation by FoodStreet Malaysia. Click
here
for link to article posted on FoodStreet website.
Khanna Peena
E-1-4/ E-1-5 Plaza Mont' Kiara,
2 Jalan Kiara, 50480 Kuala Lumpur.
(Tel) 03 62013355 (Fax) 03 62018777