When I read that dining at
Café Lavista
at
Hotel Equatorial Bangi-Putrajaya
promises a refreshing change from the usual maddening and crowded KL city centre, I accepted
FoodStreet's
invite to a food review there without further hesitation. Having said that, my friend and I nearly changed our minds when I ended up driving in circles trying to locate the resort
(it being only my 2nd time to Bangi and its surrounding area
) but all doubts were erased when I saw the view that greeted me when I stepped into the restaurant.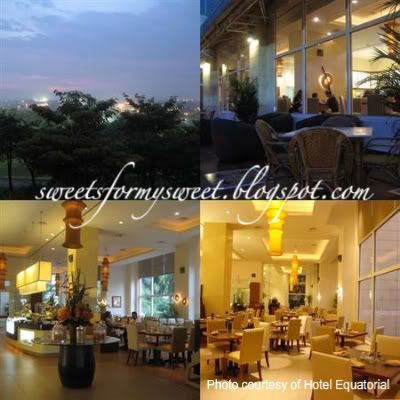 Anti-Clockwise from Top-Left: KL skyline at dusk as viewed from the balcony; alfresco dining area; Interior of Café Lavista
It was dusk then. The twinkling lights of the distant KL skyline that can be seen from the balcony outside awed me. Sitting at the breezy terrace alfresco dining area with glasses of
Ginger Blues cocktail*
(ginger ale, lemon. Cointreau)
and
Spring Fever mocktail* (mango, orange and lime)
in our hands, it was a perfect chilling-out moment.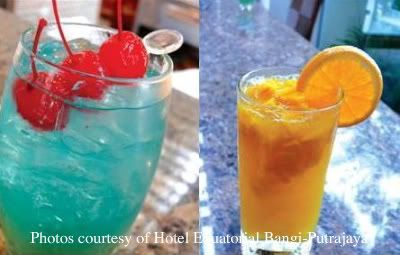 Special Cocktail & Mocktail of the month (July):
Ginger Blues & Spring Fever

(*Not part of the buffet)

However, the moment was interrupted by our growling stomachs as delicious whiffs of food drifted by. We eagerly trudged back into the café-restaurant, which features a bright, spacious yet cozy ambience, with individual live-action cooking stations.
Arrays of both local and international cuisines awaited us. We started with the salad bar and fresh seafood bar. The former featured a variety of assorted fresh vegetables with various types of dressing as well as a selection of hot & cold starters. The seafood bar is an obvious popular section with patrons. The fresh seafood was very fresh indeed. There was also a selection of smoked seafood, which I was rather fond of.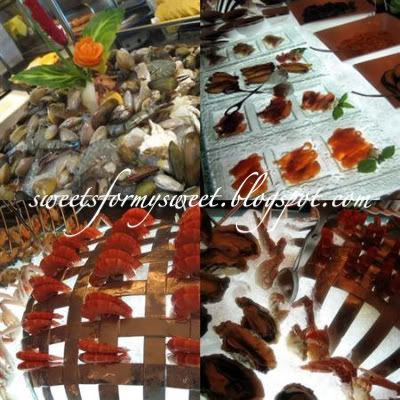 Food from Fresh Seafood Bar
My friend who preferred cooked seafood busied herself with the baked and grilled varieties such as the
Baked Half-shelled Mussels, Spicy Crabs
and even
Seafood Tempura
.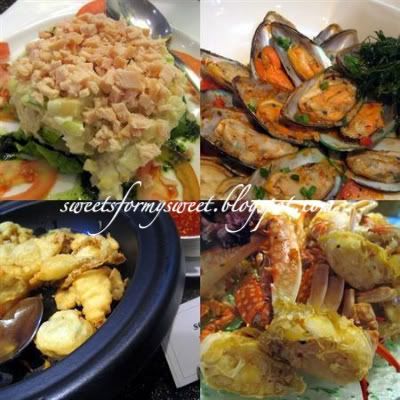 Cooked Seafood (anti-clockwise from Top-Left): Crab Salad, Baked Half-shelled Mussel, Spicy Crab and Seafood Tempura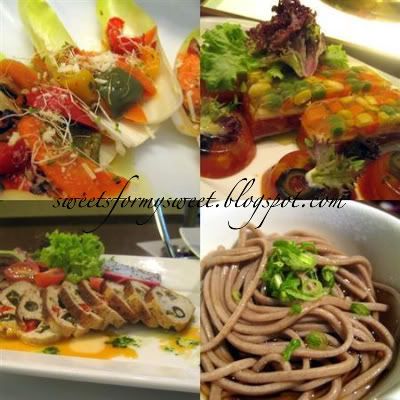 Assorted appetizers and starters
Over at the
Italian
section, I was delighted to see a wood-fire oven there. I tried their chef's creation pizza, and it was pretty delectable. Ingredients were also laid out on the counter for DIY pasta. Not only that, I was taken with their bread station with many tempting choices of bread nicely arranged on wooden shelves.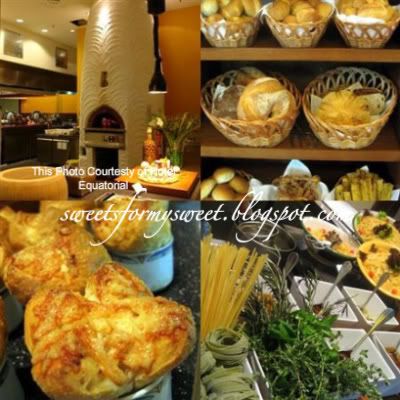 Anti-Clockwise From Top-Left: Wood-fire oven for pizza, Delightful assorted bread, DIY Pasta Section, Yorkshire Pudding
Over at the
Western
section, the special of that night was the fabulous
Roasted Australian Leg of Lamb
served with the usual trimmings such as
roasted potatoes, sweet corn-on-the-cobs, as well as green peas and carrots
. Not really a fan roasted meats, I was won over with the tender and moist lamb meat perfectly paired with the accompanying gravy and sauces. Other notable dishes I managed to try from this section include
Grilled Beef Steak
(rather good!)
,
Pan-fried Cilantro Seabass and the Stuffed Bell Pepper with Minced Chicken
. For something a little different in buffet spreads,
freshly grilled tortillas with fillings of your choice
were also available!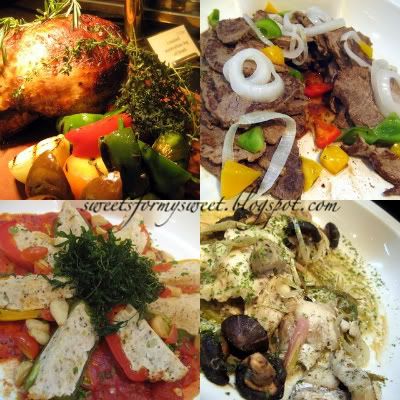 My favourites from the Western Section (anti-clockwise from top-left):

Roasted Australian Leg of Lamb, Grilled Beef Steak, Cilantro Seabass, and Stuffed Bell Pepper with Minced Chicken
Moving on to
Asian
and
Local
sections. There were quite a few selection at the Chinese and Malay section. I tried the
Deep-fried Dory in Black Bean Sauce
which to me was pretty ordinary. The
chicken and beef satays
however were a different story. They grilled meat were juicy and succulent and the peanut gravy was very delicious indeed. My only qualm was the ones that I had very a little cold but one could always request for freshly-grilled ones, I reckon. Aside from that, pots of curries and other traditional dishes lined the counter at the Indian section. I indulged myself in my favourites such as
Palak Paneer, Chicken Tandoori and naans
.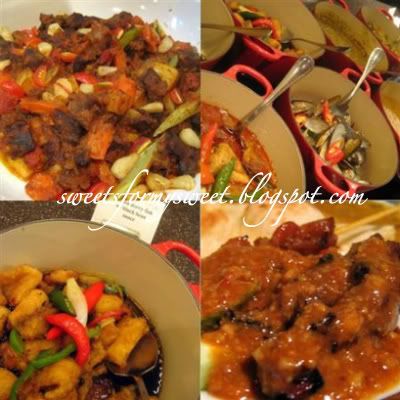 Offerings from the Asian station (anti-clockwise from top-left): Spicy Lamb & Potato Stew, Pots of curries & Indian dishes, Satay, Deep-fried Fish in Black Bean Sauce
We were truly stuffed by now by how could we leave without sampling the irresistible-desserts section? Unfortunately, we were told that their
chocolate fountains
were down that night, but this was quickly made-up by the bountiful offerings of other tempting dessert creations gorgeously displayed. We were spoiled with choices…! Not to be missed include the
"teppan-styled" ice-cream loaded and freshly-made crepes topped with ice-cream.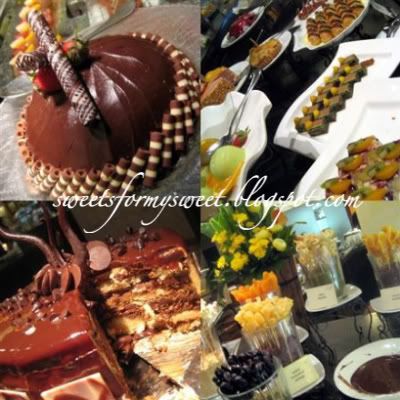 Desserts! Desserts! Desserts!
I liked the
Zucotta
(a dome-shaped cake with a combination of chocolate, almond and whipped cream)
and
Chocolate Mousse Slice
with its rich chocolate flavour and silky texture. Of course, there were many other choices available. However, I was pretty disappointed with the dainty looking
local kuehs
. Most of them were too hard from over-exposure to air.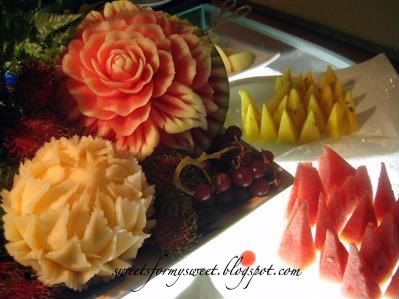 Fresh-cut fruits
Even the fruits bar looked so delectable with the beautiful carvings of the fruits.
Overall, we enjoyed dining at
Café Lavista
with its cheery and warm interior, panoramic view outside and wide selections of food. Buffet dinner is priced at RM68++. Breakfast, Hi-Tea (Sat) and Brunch (Sun) Buffet is also available and priced at RM42++ while Lunch Buffet is RM52++. Children (age 4 to 12) gets 50% discount.
Café Lavista
Hotel Equatorial Bangi-Putrajaya
Tel: 03-82102222 (ext.1111)