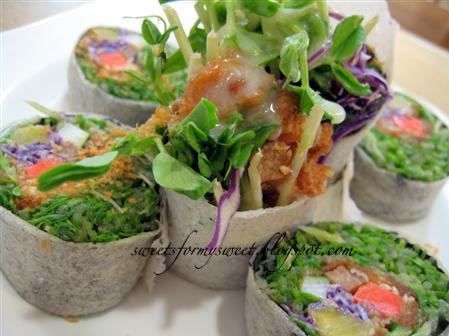 Living close to
Bandar Sunway
, I have actually passed by this restaurant countless of times but frankl, it had never crossed my mind to give it a try until I saw an episode on
8TV's
HoChiak!
featuring their
special vegetarian sushi
. With the extra "special effects" thrown in (as seen on TV), the sushi looked absolutely enticing! And hence I resolved that a visit to
Shiang Hai
is a must! And I had; in fact a few times since.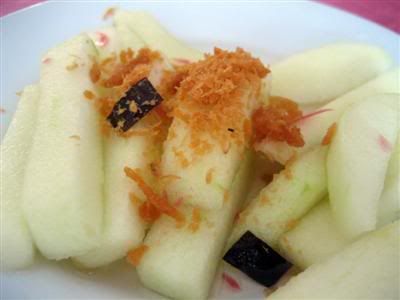 A small dish of green apple slices with an unidentified topping
(I think it might be their homemade vegetarian meat floss
) are usually served as appetizer. Being both sweet and sour at the same time, it was a perfect appetizer.
Their vegetarian sushi was what enticed me to visit in the first place and I was pleased to see 2 pages of their menu being dedicated to it. Most of them are nicely named but by now, I have forgotten them. So I could only show their pictures...
Vegetarian Sushi with bean sprout
(refer to picture on top).
Rolled in what looked like a very thin
"popia"
skin, it tasted very green, very healthy. Dressed in their own homemade mayonaise-like dressing, it was yummy too.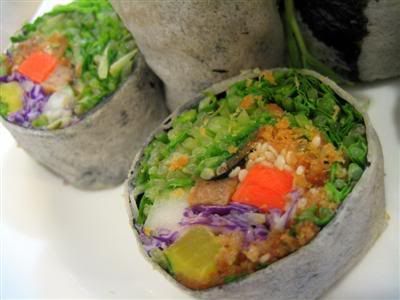 But I would suggest that you love bean sprouts in the first place before trying it. I did, and even then I too, felt that it was a "
little bit too green"
towards the last couple of pieces.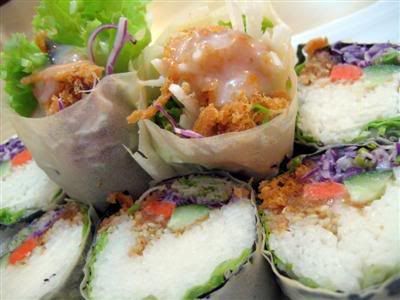 This variation is highly likeable. Basically the same except the bean sprouts are replaced with shredded jicama (
sengkuang
) and added with vegetarian meat floss. Topped with the same addictive dressing , it was absolutely delicious!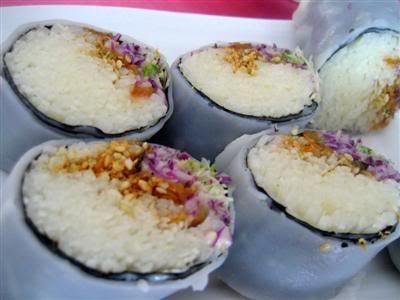 This is quite similar to the above except it doesn't have green vegetables and it was rolled in
"cheong fun"
skin. Not as good as the above.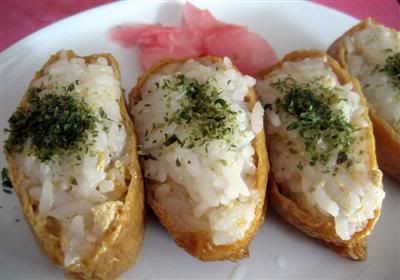 I think this was my least favourite among the other sushi I have tried so far at
Shiang Hai.
Basically sushi rice in bean curd skin, it was very ordinary although not in an unpleasant sort of way.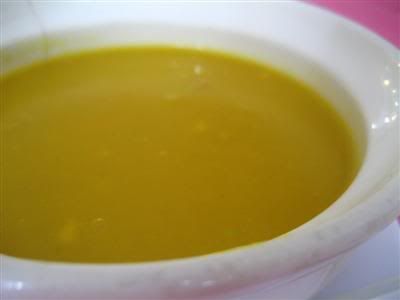 Besides the sushi, other dishes that I have tried at this outlet before include their thick and creamy
Pumpkin Soup
. Thumbs up to this one!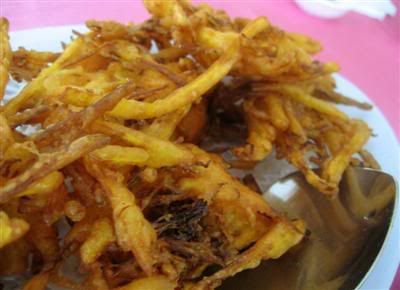 Deep Fried Shredded Pumpkin
. Not bad but tasted rather like goreng ubi.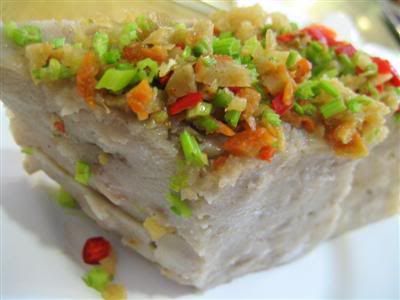 Nice
yam cake.
Loaded with chunks of yam, just the way I like it!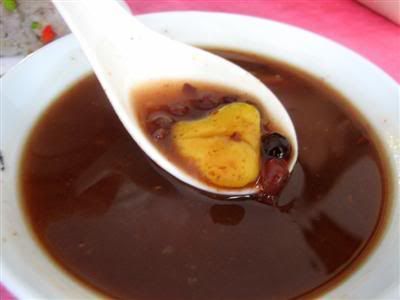 The
Red Bean soup
(
tongshui
). Not just red beans, it is also boiled with black beans and some other ingredients. A nice change from the
plain old red bean tongshui.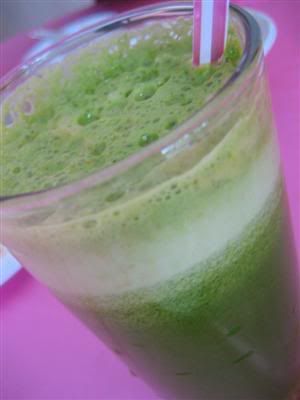 The restaurant also has quite an extensive list of power juices named after all the zodiac signs. Some of them are rather uncommon such as this one which is a combination of orange juice with kale (
I think
). Do not balk at this combination, you will be surprise that it tasted very good!
Vegetarian sushis aren't the only stuff they serve. In fact, their menu is pretty comprehensive that include dishes that you could order with rice as well as individual single-serving meals. But for me, I will always go back for more of their healthy and yummy vegetarian sushi.
Shiang Hai Vegetarian Restaurant
(Facing the main road, across from Sunway Pyramid. Same row but towards the other end from McDonalds. A couple of shoplots away from the corner car showroom (I think it is MAZDA).
40-1, Ground Floor, Mentari Plaza,
Jalan PJS 8/2, Bandar Sunway,
Selangor.
Tel : 03 5621 1016