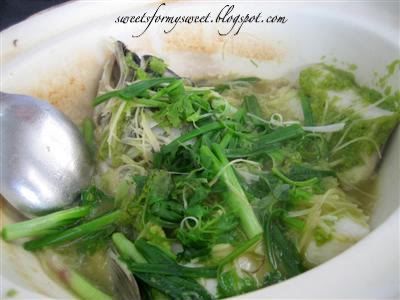 Steamed Fish Head in Claypot
One of my regular haunts during lunchtime for a venue that is close to my office; and when I am in the mood for fish head. I am not sure the exact name of this restaurant but if I am not mistaken, it is called
Paramount Fish Head Restaurant
. It used to be called something else but I think there was a change of owner. Anyway, this place is located opposite
Giant
in
Paramount
and so it's pretty easy to locate.
The default order is usually
Steamed Ginger Fish Head
(
which is pretty good, by the way
) but on this day, we decided to ask the
"si tao poh"
(
lady boss
) for her recommendation. She recommended their
Steamed Fish Head in Claypot
. I reckoned that it must be good for I saw the dish on quite a number of tables so we went along with her recommendation.
When it arrived, it looked promising. It's not too different from the
Steamed Ginger
version. The paste on top of the fish with its gorgeous green hue tasted like a mix of pounded ginger, garlic and spring onion or maybe cilantro.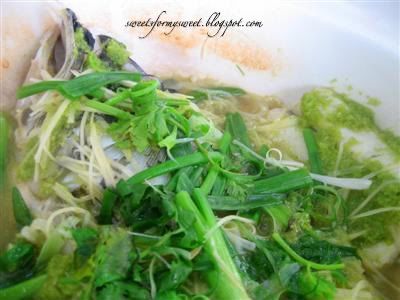 Whatever it is, it paired perfectly with the fish head. I guessed that the fish was also steamed with a dash of wine which resulted in an absolutely delicious and tummy-warming soup (
or stock
) at the bottom of the dish. I was slurping it all up non-stop. The fish was also fresh; its flesh tender yet firm, and sweet too.
A side dish of vegetables is usually ordered to accompany the fish head. In this case, we ordered
"Sin Kong Tau Foo"
(
Stir-fried beancurd with assorted vegetables in thick gravy).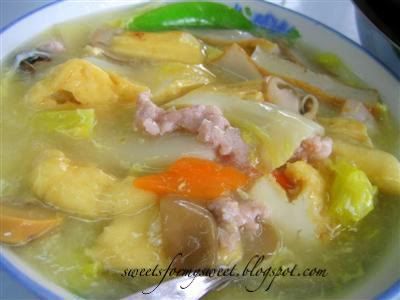 "Sin Kong Tau Foo" (Stir-fried beancurd with assorted vegetables in thick gravy).
Prices are pretty reasonable too. The total bill for the above dishes, and 2 plates of plain rice and drinks was around RM34. Not bad for a healthy, wholesome and satisfying lunch,
eh?