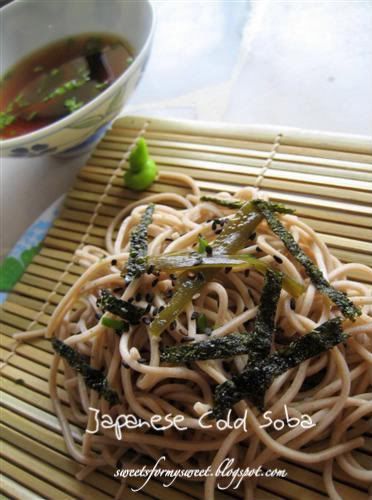 This blog was initially started to keep track of my baking/cooking experiments, a hobby that I picked up about 3 yeas ago. In those days, I was baking non-stop almost every other day if not everday, until the intervention of my mother who told me that she couldn't sleep at night because the smell of baking that permeated the air and seeped into her bedroom was distracting her from falling asleep
(on weekdays, I could only bake after 9pm).
Nowadays, my baking/cooking posts had become almost none-existent. But anyway, here are 2 fairly recent cooking experiments
(fairly in a sense that it occurred this year, not last).
I am not a fan of noodles in general, but I do like cold noodle dishes quite a lot, the
Japanese cold soba or cha soba
included. This noodle dish always seems to me as being pretty simple so I thought to myself why not recreate it at home. So here is my first try
(pictured above and recipe below

)
and I am proud to say that it was a success. Don't worry about cooking too much. Noodles and broth can be kept in the fridge for a few days and can be conveniently consumed straight from the fridge. I usually pack them for lunch at work.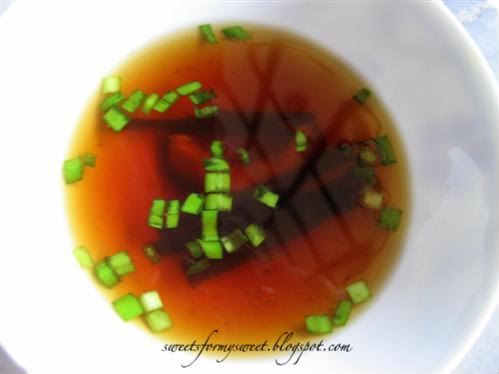 Easy Japanese Cold Soba Recipe (based on recipe found here)
200g soba
Optional: sesame oil and toasted black sesame seeds
Method:
Cook soba in boiling water for about 4 mins or until al-dente. Drain and immediately put the noodles under cold running water (or plunge them into ice cold water). Drain (give it a slight toss in the colander) and chill them in the fridge.
Optional: For a smoother taste, you can toss with a few drops of sesame oil and toasted sesame seeds.
Dipping Sauce/Broth
° Some dried kelps (look like large dried tea leaves in dry form and green algae-like/gelatinous sheets when soaked in water)
° 2 pcs dried Chinese mushroom (rinsed with water to remove dirt)
° 2 small pcs of ginger (sliced thinly to about about 1 inch in length)
° 375ml water
° 1T sugar or more (
according to taste)
° 2T (30ml) light Japanese soy sauce
° 1T (15ml) Chinese rice wine or use 2T mirin if this is available
Boil water with the dried kelps, mushroom and ginger. Lower fire and add in sugar, soy sauce and rice wine. Let it simmer for a minute. If not sweet enough at this stage, add a little bit more sugar. Strain the liquid into a bowl and let it chill in the fridge. You can slice the leftover mushroom and dried kelps into thin slices to be used as condiments later.
Garnishing (to serve): Spring onion (chopped thinly), toasted sesame seeds, mushroom and dried kelp slices (leftovers from cooking the broth), shredded roasted seaweed (nori) and wasabi paste. You can also add some cubed soft tofu for added protein.
Another time, I was in possession of a bottle of home-made Chinese rice wine, courtesy of a colleague. She even gave me a simple and easy recipe to cook
Rice Wine Ginger Chicken
. I tried the recipe and sure enough, it was easy and most importantly, the dish tasted great. The best part is obviously the broth. *
slurps
* Here's her recipe.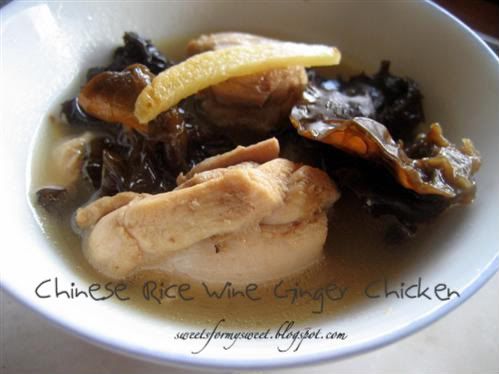 Home-cooked Chinese Rice Wine Ginger Chicken Recipe
1 chicken chopped into pieces (preferably free-range with head, feet and skin removed)
1 palm size "Bentong" old ginger (peeled and julienned)
Some dried chinese wood (black) fungus, pre-soaked
1/2 to 1 bottle of Chinese rice wine
1+1/2 bowl of water (not rice bowl but those slightly larger than rice bowl, think size of normal serving of asam laksa at kopitiam)
Seasoning: salt, sugar and sesame oil
Method:
1. Dry fry the chopped chicken to remove moisture. Careful not to cook it. Remove and set aside.
2. In a clean wok, stir fry ginger in a little corn oil until fragrant (slightly golden brown) or until crispy (this is even more fragrant but maybe more heaty).
3. Add in wood fungus and stir fry a little.
4. Add chicken and stir fry until chicken is just cooked.
5. Add water and bring to boil. Lower fire and add in rice wine.
6. Simmer for about 5 mins. Lastly add a little sugar, salt and sesame oil (optional) to achieve preferred taste.
Notes:
- For better taste, it is important to use good quality "Bentong" ginger. If you do not want the dish to be "too fiery" in taste, reduce or halved the ginger portion but you should be aware that ginger is what will make or break this dish.
- Frozen chicken can also be used. Thaw thoroughly. Also note that they cook faster than free-range chicken so be careful not to overcook.
- You can adjust the qty of rice wine used. Don't worry, the alcohol effect will evaporate during the cooking process so do not worry about getting drunk from this dish. If you do prefer a milder wine taste, you can reduce the portion by half.
Look out for Part 2 of Kitchen Experiments Update (baking & desserts)