Recognize this?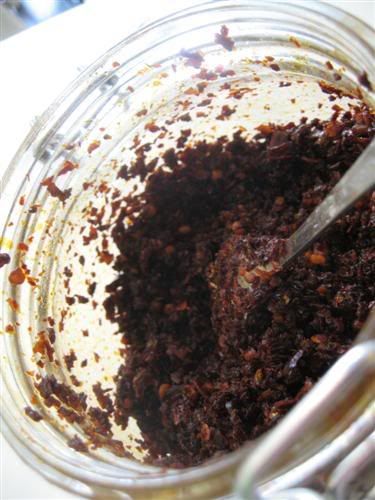 The potent yet vital ingredient for a decent chilli pan mee, popularized by the much-talked-about
Kin Kin
in KL and made available almost everywhere by
Face To Face
chain of outlets that specializes in various styles of pan mee.
I don't think I would bother ordering the classic soup pan mee at
Face To Face.
But their version of chilli pan mee is not bad. It is actually dry pan mee in dark sauce topped with a poached egg, some minced meat and fried anchovies. 4 types of chilli are available at every table.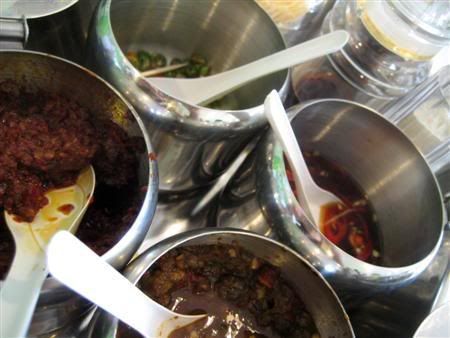 Pick your choice, generously sprinkle onto your pan mee, burst the yolk, give it a swirl and slurp it all up. Oishi!!!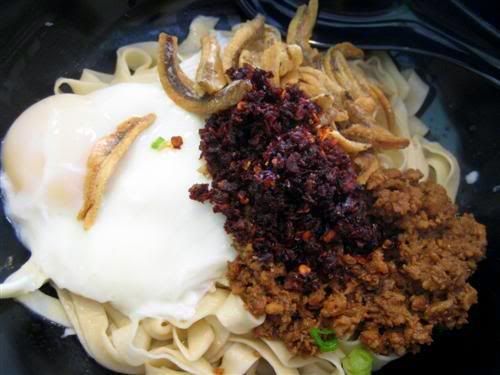 A colleague introduced me to this stall in the
Section 14 Medan Selera in PJ
. She told me they sell a decent pan mee. I gave it a try one day and find their classic pan mee in soup to be mediocre. It's not that it wasn't delicious, but defintely nothing to remember by.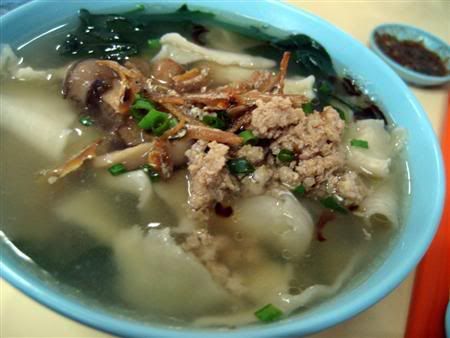 Another time, I decided to give
Home Recipe
kopitiam (
which was located next to the famous
Paramount Garden
pan mee shop)
a try after I saw their rather huge banner advertising their home-cooked style pan mee. I was thinking, if they dared to put up such a big advertisement just right outside their restaurant which is located next to a "
always crowded famous pan mee shop
", it must at least be something, right?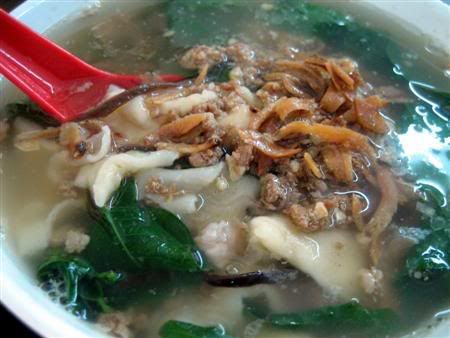 If I am not mistaken, a standard bowl costs slightly more expensive than average pan mee sold at
kopitiam
. However, it was a rather big serving and loaded with ingredients. I pretty much remembered that the
pan mee
was rather obviously
outnumbered
by the vegetables and other stuff. In fact, after I'd finished eating all the pan mee, the bowl was still swimming with loads of ingredients. I would say it was a pretty decent bowl of pan mee although I think it could be better if they reduce or eliminate the use of garlic (or was it shallot?) oil in their soup. Too
garlicky
for my liking...
Where to find:-
Face To Face (various outlets in Klang Valley, including SS15 Subang Jaya).
Medan Selera Section 14, PJ.
Home Recipe, Sea Park, PJ.

(Updated 21/11/2008: Outlet closed.)