Fatty Pan Mee, Taman Berkeley, Klang
Being a fan of pan mee, it has been on my mind for quite a long while (a couple of years) to try the much raved "famous
mee hoon kueh (pan mee)"
in Taman Berkeley, Klang. So what stopped me before? It's the location. Although staying in Subang, Klang is as alien to me as Mars. Without a real-life guide, I don't trust myself in not getting lost armed with just some verbal directions. But this was then. Some kind souls had since taken the trouble to post some direction map on the net and lately, I have managed to venture
in and out of Klang
a couple of times successfully and that boost my confidence a fair bit.
So on one fine afternoon, with a printed map and some very precise verbal directions, I finally set on this much-awaited quest together with two other pan mee fans. Surprisingly, it wasn't hard to locate the place. In fact it was rather
easy-peasy;
and left me feeling kind of foolish over my previous apprehensions.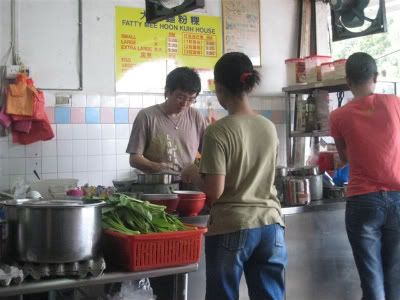 Where the action is.
The shop iteself it rather small and "old" and is a little
less clean
that I would have cared for. As it was slightly before 12 noon, there was a couple of small tables still available. Two of us ordered the classic pan mee in soup with additional poached egg while another asked for added vegetables. Waiting time was tolerable, about 15 minutes (
which was nothing compared to what I had to endure here
).
So, how did it fare?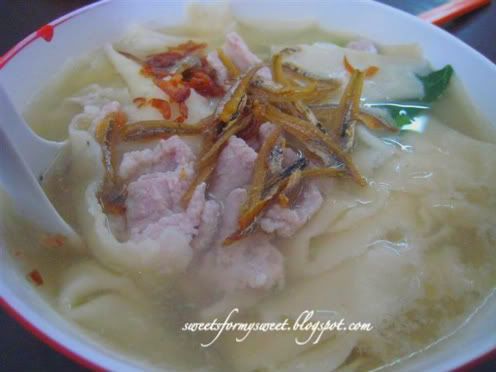 Hand-shredded pan mee in soup with additional poached egg (that is hidden from view).
I like the hand-shredded dough very much. Although hand-shredded, the thickness level was evenly thin with just the right bite to it. But that's the best feature of this pan mee. The soup base, although light tasting (
not so oily)
could be better with a more enhanced aroma and taste of the all-important anchovy stock. The standard serving without additional vegetables only came with a mere 2 stalks of leafy vegetables. But my biggest disappointment has to be the accompanying chilli. The only type provided is cut chilli that you drench in soy sauce. My must-have is those pounded cili padi type which I feel, when made very well could elevate a sub-standard pan mee to "star" status. All in all, it is one of the better ones around town but to me, also belongs to the category "
trying once is enough"
and not something that I would travel all the way to Klang for.
Stay tuned for more adventures of pan mee...
PS on Notebook Status: Notebook is still in workshop. This post is posted via a temporary notebook and photos are courtesy of my friend, Ann.
PPS: Directions given in "Comments"