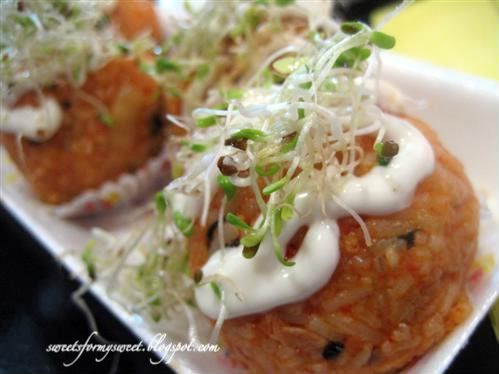 Yummy Tuna Kimchi Rice Balls (RM8.00)
Truth to be told, I love street food/snacks. When travelling, put me in an area lined wth local street food and I will be extremely delighted. Similarly, I was delighted to have discovered this little outlet that specializes in Korean street food. Nestled in the
maze-like Asian Avenue
in Sunway Pyramid, it is not exactly easy to find. I could only describe its location as being somewhere on the 'right-hand side', in the 'middle' of the avenue.
The outlet itself is rather small, more like a stall. There are a few small tables with "not exactly comfortable" bar stools. It is hard to imagine how a group bigger than 3-4 persons could dine there comfortably.
Ccozi & Friends
offer quite a variety of light eats ranging from various meat skewers, ddok bok ki (korean sliced rice cakes), stuffed rice balls, student lunch boxes served in metal tins, noodles and meals in hot stone bowls. The
Tuna Kimchi Rice Balls
(pictured above)
that we ordered were delicious! I wasn't really expecting that I would like it so much but tuna flakes in slightly spicy kimchi sauce rolled together with the fluffy and slightly moist rice proved to be a delectable combination!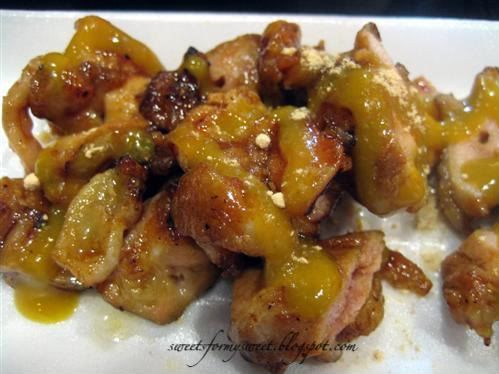 Grilled Chicken Bulgalbi (Korean BBQ Sauce) RM4.50
The
Grilled Chicken Bulgalbi (Korean BBQ Sauce
) skewers tasted as good as it looked in their menu although I would have preferred it to be served to us in skewer stick as seen in their menu rather than just serve the meat pieces on a plate minus the skewer stick. I reckon the latter is more convenient for the patrons but it just didn't look so good"
lah
". Fortunately, the chicken was delicious. Juicy, slightly smokey and really flavourful!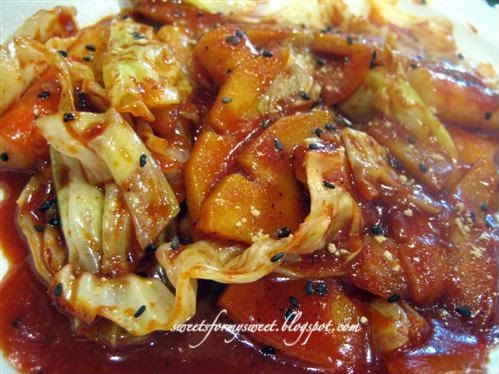 Delicious Ddok Bok Ki (korean rice sticks) (RM8 - 9.50)
Ever since I keep seeing the
ddok bok ki
(
korean rice sticks
) in korean dramas, I have been curious as to how they actually tasted for they sure look yummy drenched in the vibrant red sauce. So we ordered a plate of
ddok bok ki
with vegetables to share. Indeed it did not disappoint. The ddok bok ki was not unlike our
cheongfun
except that it has a thicker and more chewy bite to it. Together with the slightly sweet and spicy sauce, every bite was delicious!
One of us also ordered their
hotstone bibimbap
. I didn't try so couldn't comment on it. But it didn't really look that irresistable, for otherwise I would not be able to resist trying,
would I?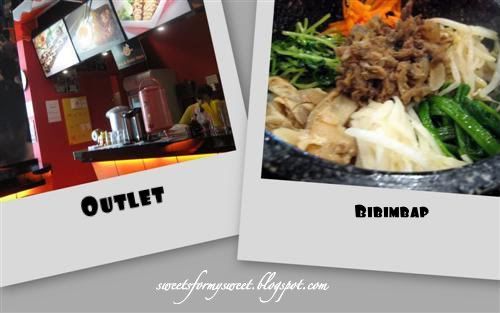 Ccozi & Friends

First Floor, Asian Avenue
Sunway Pyramid

Link to this article published in Sunday Metro, The Star on 30 Nov 2008
Other reviews:
Pinkpainter
LjuN9