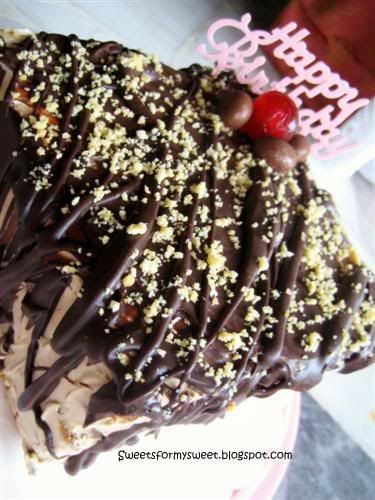 Chocolate Opera Wannabe Cake
This is a cheater's guide to making an
Opera Cake
. In fact, I wouldn't really call it a classic
Opera
Cake. A more apt description would be
"Chocolate Opera Wannabe Cake".
Well, when time and ingredients do not permit one to bake an almond sponge base, one would have to make do with a normal plain sponge. Here's what I did:
Slice the baked and cooled sponge cake into a few layers, and spread a layer of Baileys-flavoured chocolate hazelnut buttercream. Chill it for awhile then top with a layer of chocolate ganache. Chill again till the chocolate ganache hardens. Repeat the above. On impromptu, I also added a generous sprinkle of crushed peanuts and biscuit crumbs in between the layers to make up for the feeling of a "slightly crunchy almond sponge cake". Once done, frost and decorate the cake with leftover buttercream, chocolate ganache and biscuit crumbs.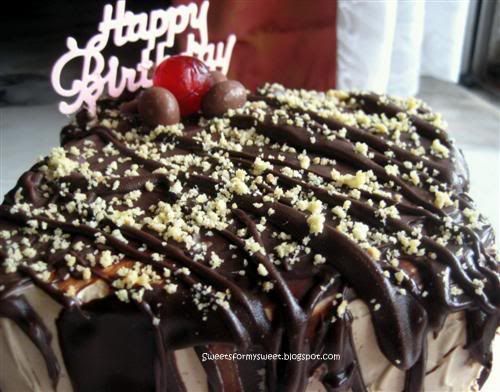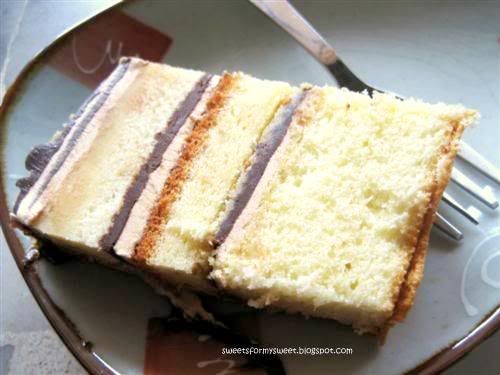 Chocolate Opera Wannabe Cake
The cake
(sans baking time)
and frostings took me a matter of minutes to prepare. The frosting and decorating? A matter of
hours
, no thanks to clumsy and amateurish fingers as well as unco-operative hot and humid weather.