One fine afternoon, a few old friends and I made plans to lunch in KLCC. Usually, I tend to think that the dining options at KLCC are not what I would call "exciting". However, a friend suggested a "new Korean place" that according to her, had just opened not too long ago at KLCC so we decided to give it a go.
Upon arrival, the "new Korean place" turned out to be Koryo-won, not exactly a new place as there's one (not sure if it's still around) that had been around for a long time just across the road.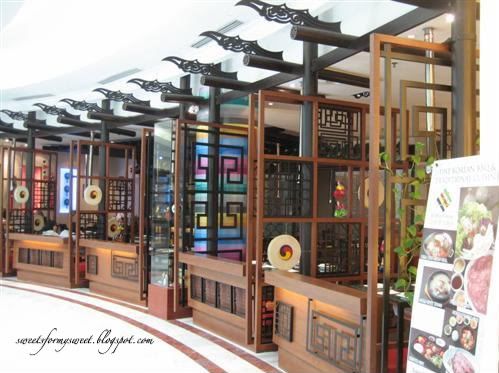 Entrance
Browsing through the menu, I could see standard Korean fare. As it was lunch, some set lunches options were also available. In the habit of sharing food, we ordered a few dishes.
Banchans (mini appetizers)
A customary prelude to most Korean meal is the serving of a variety of
banchans
(mini appetizers
). This is one of my favourite parts of a Korean meal; and the fact that since most restaurants generously offer "
free refills"
too. Not so for this restaurant however. I couldn't recall what we were told but after having 3 refills (
not 3 rounds
), we were told we couldn't have any more unless we pay for it. I think the reason had got something to do with the number of ala-carte main dishes that we ordered. Nonetheless, we weren't too pleased with their reasoning, nor the manner we were told.
Beef Bulgogi
The
Beef Bulgogi
was alright. Tender thin slices of grilled beef fillet in saltish-sweetish sauce, it tasted best when paired with plain white rice.
Kimchi Chigae
Another favourite dish of mine and which I usually ordered at Korean restaurants is the
Kimchi Chigae
which is some sort of a spicy vegetables stewed in kimchi broth. The serving size of this is really miniscule
(the photo you see above is misleading as it's just a close-up)
although not uncommon. Again, it tasted just mediocre. It just didn't have the right "
zing
" for us.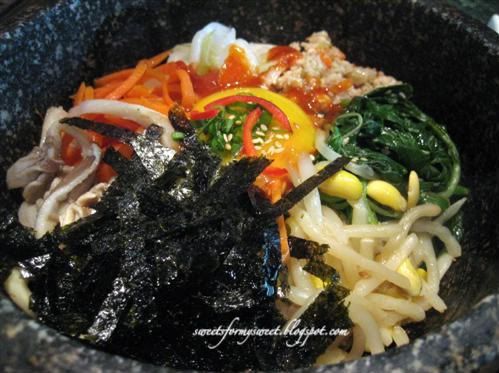 Bibimbap in Hot Stone Bowl
I love
Bibimbaps
! There is something about tossing plain white rice with a variety condiments topped with a raw egg in the sweetish spicy bean sauce that proves to be really addictive! Even better is having it in a hot stone bowl. The slightly charred rice at the bottom of the bowl provides a delicious crunch.
Aside from the above, a friend who came later ordered their
beef bulgogi set lunch
which came served in a bento box not unlike what you see (
here)
except for the fact that it is almost
3x
the price as compared to the
latter
.
(eeks!)
Then again, this is in KLCC
-lah
so one can hardly expect the price to be cheap. Still, I find paying RM8 for a glass of cold green tea to be too much although it came with free refills
(however it seeems like they refill the glass with just plain water
).
Also, we were less than amused with their service. We weren't in the mood to put up with sulky waiters and waitresses who bordered on being rude. During the course of our lunch, one waitress actually broke something twice, one of it being rather near to our table with nary an apology.
Geez
! No prize in guessing that we would definitely not be in a hurry for a revisit!
Koryo-Won Korean Restaurant
Level 4 Ramlee Mall (418/419)
Suria KLCC, Kuala Lumpur City Centre
Tel: 603- 2171 2189/ 603- 2166 6189
Link to this article published in Sunday Star, Metro 11-01-2009