Pineapple is considered by many as an auspicious food item for the
Chinese Lunar New Year
. In the Hokkien dialect it is called "ong lai" which means prosperity comes. Not that I am superstitious, but it is nice to make something with pineapple just for the occassion. And that was how I ended up baking a
Pineapple Butter Cake
for someone to show my gratitude for a favour done. It was a rather last-minute decision. I didn't have any idea on what to bake initially and it was too late to go out and get anything else since it was the eve of CNY and most provision and baking supplies shops would be closed. A quick scan of what I had in the pantry and my eyes settled on a can of pineapples. Aha!
Pineapple Butter Cake
. Simple and apt for the occassion.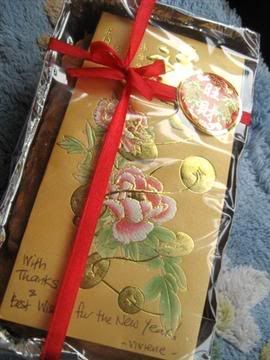 The recipe was kind of improvised by yours truly. I was pretty worried about how it would taste initially since I have not baked this before. Luckily, I had some extra batter which I poured into muffin cups so I ended up with a couple of cupcakes. Hmm...., not bad at all. Buttery and fluffy cake with chunks of pineapple throughout.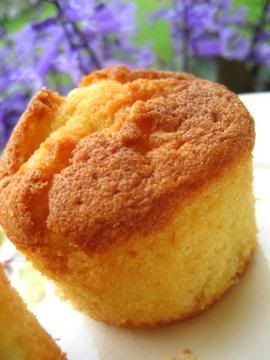 Here's the recipe.
Pineapple Butter Cake
Ingredients:
1 prepared 9x5" butter cake** (recipe below):-
2 eggs + 1 egg white
175 g Butter, softened
100g castor sugar (or adjust to your preference)
150 g plain flour
0.75 tsp baking powder
90ml liquid (juice from canned pineapple)
1/4 or 1/2 tsp vanilla essence
1/2c pineapple chunks (cut into smaller pieces) well-drained and coat with a little flour from above***
1T pineapple jam (optional)
Method:
1. Beat butter and sugar till white and creamy.
2. Add eggs, one at a time to beat.
3. Sift flour, baking powder together and add into batter to mix.
4. Add juice, vanilla essence and pineapple jam and mix till combined. Do not over mix.
5. Add pineapple chunks and mix till combined. Do not over mix.
6. Pour into greased 9x5" loaf tin.
6. Bake in preheated oven 175 C for 30-40 mins or until done*.
Notes:
* As baking time and temperature varies with different ovens, it it better to test with skewer for doneness from 30 mins onwards. Cake is done when skewer comes out clean when inserted in the center of the cake. If top browns too fast, cover with foil.
** For quick fix, buy those ready packed pre-mix from baking supplies shop. Follow the instructions but just substitute liquid with pineapple juice. Last 3 ingredients listed on top to be used as in the above recipe.
*** This is to prevent the pineapple chunks from sinking to the bottom of the cake during baking.