Lately, I have been receiving a few enquiries from friends who knew of my interest in baking. They asked me, "So what are you baking for Chinese New Year?" I felt ashamed in replying, "So far, nothing." With CNY about a week more to go, time is running out for me particularly when I have been too ambitious in preparing my "CNY To-Bake List". I think I had at least 6 different types of cookies that I planned to bake. But like I said earlier, with CNY about a week more to go, I think I need to be more realistic and trim the list down to maybe 4 selections. Or perhaps 3. Hmm...., or maybe just 2.
But at least, I already baked my 1st batch of CNY cookies. Ta-da.....,
Green Peas Cookies
(not green bean or mung beans).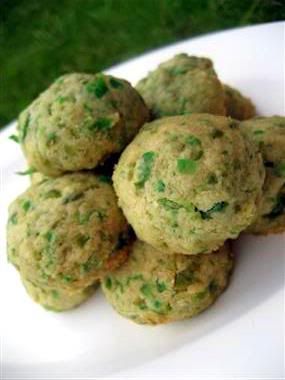 A friend introduced me to these cookies last year which I enjoyed very much. Then later, I found a stall in a shopping mall that sells very good green peas cookies - the melting type. Sadly, they no longer sell them. Recently, I found a recipe for these cookies and to my delight, the recipe looked so simple to make (and they really are!). This version results in a very crunchy cookie, particularly since I did not blend the green peas too well, rather roughly grounding them into coarse bits.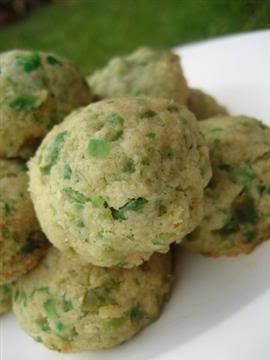 Using a good oil is important (such as sunflower, canola or soya that does not have a strong scent), otherwise the cookies will stink of oil (I can't stand the smell of blended cooking oil such as Knife or Neptune. I also added some vanilla essence,
just in case
.
May have to bake another batch since I almost finished the first batch by myself *grins*. Well, at least 1 down and another 1 or 2 more to go...
Link to recipe.