Mom went to Penang recently, and with the head chef gone, that's how I ended up with this dish for dinner. Dad had a tooth taken out earlier in the day so ideally, dinner should involve food that did not require much chewing.
Steamed Tofu & Egg White with Seafood and Broccoli
(or I could forget about the long description and simply call this dish

Prosperity Tofu

just because it sounds good eh?)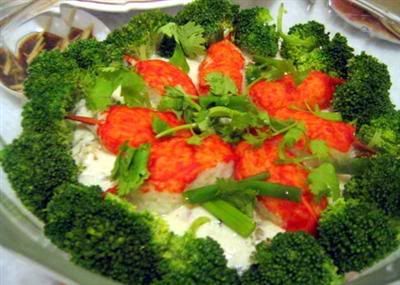 Ingredients:
1 packet soft/silken tofu
1 large egg white, lightly beaten
Fillings: (Be creative here! You can add finely chopped carrots, corns, waterchestnuts, mushrooms - it's up to you, really.)
1 small broccoli, cut into florets
8 pcs of (imitation) crab meat with/without claws (or substitute with peeled prawns)
Seasoning (again, up to you. Suggestions include soy sauce, pepper, oyster sauce or sesame oil)
Method:
1) Mash tofu with fork. Add egg white and mix to combine.
2) Add the chopped fillings of your choice. Add seasonings. Combine well.
3) Pour into a microwaveable casserole dish.
4) Arrange the broccoli florets around the dish and the crab meats in the center.
5) Cover and microwave for about 2-5 minutes until tofu and egg mixture is done (texture should be like steamed eggs); or you could just steam it.
6) Garnish with some chopped cilantro or spring onions. Serve hot.