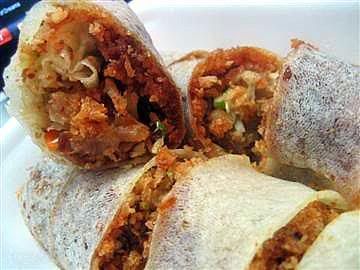 Popiahs.....! One of my all-time favourite food. Constantly on the hunt for good popiahs, but I am pretty satisfied with this particular one that my colleague buys for me every Thursday from the morning market along Old Klang Road (

corrections! see below for details)

.

Apparently, the seller travels around numerous spots in Klang Valley but you will find it at the OKR morning market every Thursday (days off not consistent).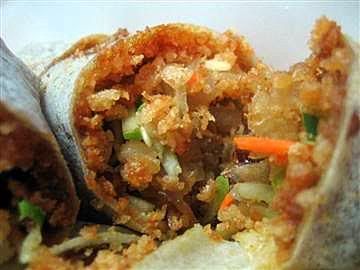 What's so special about this? Stuffed to the brim with ingredients, it's one helluva popiah. They also lightly flavoured the wrapper with pandan, hence the light green tinge to it. One special ingredient they added is the deep-fried egg flakes (or at least that's what I think they are), The sweet sauce and chilli sauce are nicely balanced too. RM1.50 per roll, it definitely surpasses those Sister Popiah stalls found in shopping malls selling for about RM2.40 (?) per roll.

My other favourite is the one sold outside a shopping mall in Melaka (roadside). Absolutely yummilicious....! It reminds me of a "char siu bao" in a popiah. Strange??? Well, you have to taste it to know what I mean. Unfortunately, it's in Melaka so that means I only get to have it once in a blue moon. If only it's located nearer...
*

sigh*
Last but not least, and on the "honour roll" is of course the home-made popiahs made by my sister-in-law. Occassionally, we have a "popiah party" at home for dinner. I can easily whack 3 jumbo size popiahs at one go. That shows how good it is. :-)
Now, don't forget to let me know if you know of other places to get fantastic popiahs! Deal?
Corrections!
My colleague had just informed that she got it not from the OKR morning market, but from the morning market in Happy Garden (apparently this is only 1 street long). The popiah stall is manned by a husband and wife (although sometimes, it's sold by their kids). The stall is located next to an Indian stall selling vegies. It is called Sakura and apparently there is a similar stall by the seller's sister operating in SS2 (which I think I have tried too). All I can say is it matters on who makes/wraps the popiah (i.e., quality may varies).