Recently, after a
marathon of gym classes
, my friends and I stopped over at
Rojak Rojak
at
The Curve
for the much needed "fuel replenishment".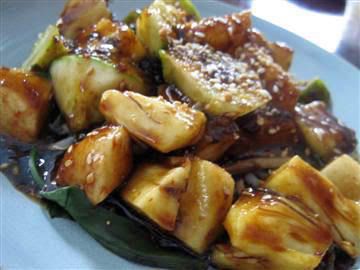 Fruits Rojak with "kangkung".
I like this, the sauce was piquant and rather spicy. To my friend who could not tolerate spiciness as much as me, it could get pretty overwhelming. My only complaint
(s)
? Not enough crushed peanuts
and
serving size is rather small for its price (between RM6-7).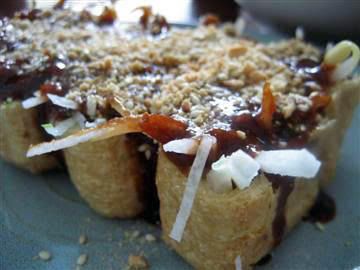 Stuffed Tofu "Bakar"
For once, the serving size was rather generous. About 8 pieces or so. Fresh and crunchy, I like the fact that it was not soggy (
from being overly drenched in sauce
) was already a "plus" point for me. Again, I like the sauce used here.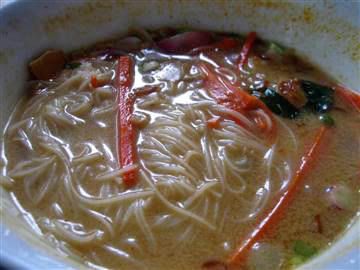 Spicy Noodles
My friend had scooped out 1/3 of it before I remember to take a picture of this. I only took a couple of small spoonfuls of this so couldn't really comment much. But I remember that the gravy/soup base was pretty delicious.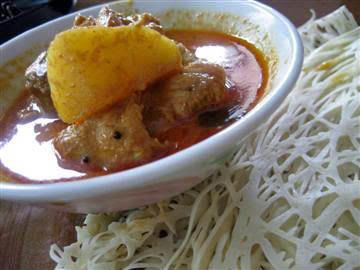 Roti Jala with Curry Chicken
I stole a bite from my friend. Haven't had Roti Jala in a LONG, LONG TIME so to me, it was another thumbs up!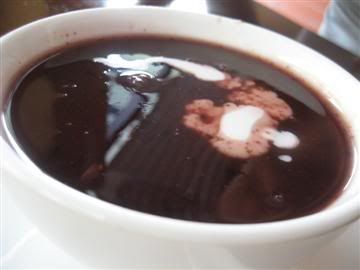 Black Glutinous Rice tongshui
Erm...., this was "ok-lar...." Not a fan of this type of
tongshui
though.
Rojak Rojak
The Curve
Other review:
Da Wheel of Life & Happiness