My sweet tooth has been acting up again. Was craving for sweets so off I went, desserts-hunting over the weekend.

First stop. Paddington House of Pancakes at The Curve on Friday night.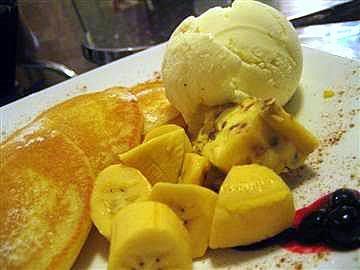 Ok, I had to admit that I wasn't that keen then. I just had a very filling dinner and didn't think I could eat anything else. So my friends ordered 2 desserts to share. Of course, when they arrived, I could not resist taking a bite (

ok, make that several bites

) of the desserts. I like the classic American stacks. Served with a drizzle of maple syrup, some berries on the side, a scoop of vanilla ice-cream and what looked like butter with caramelized nuts (

see right hand corner of the bananas

)- they were good!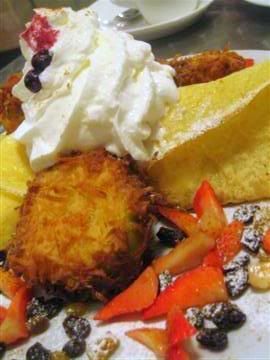 The 2nd dessert was a bit too heavy and complex in a sense that it was laddened with too many goodies. An ice-cream filled crepe topped with mountains of whipped cream with berries and raisins on the side, and also 2 apple fritters with coconut flakes. But I actually like the latter, the apple fritters were yummy. Crispy, crunchy and slightly tart - it was good.

Next - Suanson's Cakes (Jalan Bangkung, Bangsar) on Saturday.
A friend read that this place was good. Apparently their Carrot Walnut cakes and Chocolate Fudge cakes are very good so we tried these 2.


I like the Carrot Walnut cake. Wholesomely good, they didn't try to pack a mountain of ingredients into the cake. It's more like a light butter cake types loaded with shreded carrots and walnuts. No complicated flavours.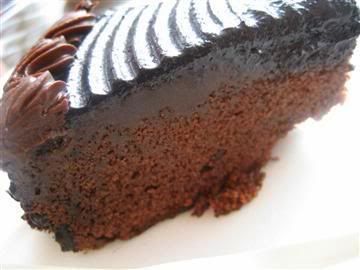 I wasn't too taken with the Chocolate Fudge Cake though. Not to say it wasn't good but it just wasn't erm...., outstanding. Cakes here aren't expensive though. Abour RM3-4 per slice (slices are rather small). Not a recommended place for hanging out though, it's a self-service place with just 2 tables outside. Plastic cutleries and styrofoam plates. Coffee (

machine-brewed premium Nescafe aka Alta Rica

) was served in a paper cup.

3rd Stop - Hayn's Pizza in Desa Sri Hartamas on Sunday
After an appointment at a nearby beauty salon, my friend and I were pretty famished and that's how we ended up at this place. We ordered their Banana Pizza to share (I recalled reading somewhere that this was recommended).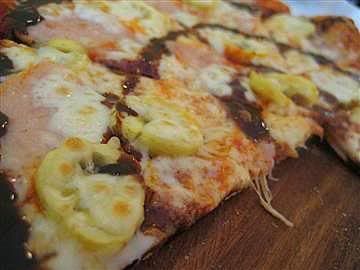 More like a savoury dessert, the pizza was slightly unusual. A tomato-based pizza topped with bananas and cheese with drizzles of chocolate sauce, it was a combination of both sweet and savoury. Different, but tasty. I like their pizza base very much, thin and slightly crispy, they felt pretty light in the stomach too. But they could be more generous with the banana chunks and chocolate sauce though.

My last craving was for some gelato. I was debating between Lecka-lecka's which was also sold in this outlet or Alberto's

(further down the road)

. But since I have not tried the later, we opted for it. RM7 for a small cup (2 scoops/flavours) - not a bad deal, eh?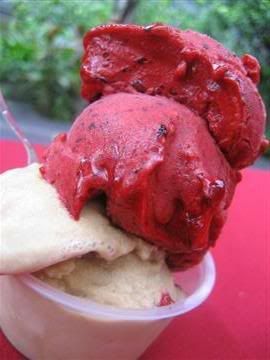 We chose Mixed Berries and Tiramisu. The Mixed Berries was really good! Tart and creamy and very refreshing. As for the Tiramisu, I like the flavour (tasted a tinge of rum there, which is good) but not the texture. Somehow this is of different texture as compared to the Mixed Berries. I could taste the "ice" in it, it wasn't creamy enough. Almost like the texture of a sorbet.
That's all, folks. Coming up - Part II.