Talking about my favourite pan mee stall located in a corner kopitiam in SS19, Subang Jaya in one of my previous posts sets me craving for it. So when my friend who happens to be an even more of a pan mee afficionado than me dropped by in SJ during one Saturday, I suggested that we go much to her delight since she has been hearing my raves over this pan mee for ages.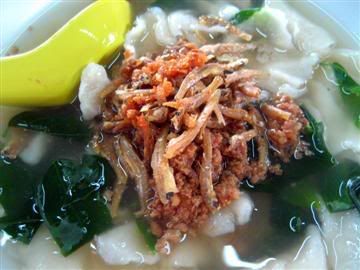 Now, why didn't I visit this stall more often since I like it so much? 2 reasons, the wait and the fact that I can only have them on days that I am not working (since they usually close by 3pm and on Sundays). The wait can be anything from 30 mins to 1 hour or so. What you do have to do is take a number (token) from the stall and wait for your turn. Hold it for dear life for once you lose it, you will have to restart again. (hehe)
You can order their fresh coconut juice while you wait though.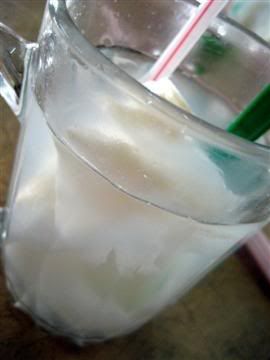 The stall is manned by a mother & son team. The mother shreds and cooks the dough and soup while the son prepares and assembles the final dish. Why do I like their version of pan mee so much?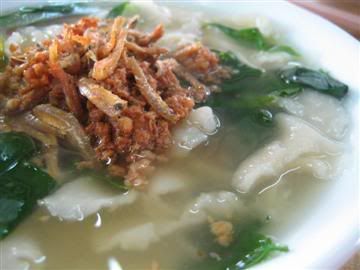 First, the soup. Tasty with superior anchovies stock and so far, it fares pretty well in my "post-consumption thirst test". It is pretty clear too. If you do not stir in the deep-fried anchovies and minced meat, you will see th
at the soup is in fact, rather oil-free. Very "cheng". The dough is good too. Hand-shredded (my favourite!), chewy with a good bite and yet, not too thick. The accompaniments are very well-balanced too. The deep-fried anchovies and minced meat each provided a crunchy texture and added some flavour to the dish, while the green vegetables are cooked just nice. One vital ingredient to a truly outstanding pan mee is the accompanying chilli sauce. Here, it is made with minced chilli padi with a touch of lime. I always ask for 2-4 sauce plates of this. On the other hand, you can have their "dry" version too (which is my mom's favourite). I have tried it and it is very good too. But I still prefer my pan mee in soup base.
My friend gave her thumbs up but at the same time, commented that she recently had one in Desa Petaling which is even better than this. Now, I will definitely have to try that place.
Shop name: Lian Heng
(I think)
SS19, Subang Jaya.
(Corner shoplot, the other end from Parkway Kopitiam)
Opens from 10:30am (?) until sold out (usually before 3pm. Closed on Sundays.