I understand that this outlet has been around for a while but my recent visit there was my first, thanks to recommendations from bloggers and friends. We went on a Friday evening without reservations and were lucky enough to get a table (after a short wait) for the place was packed! And I can see why, food was good particularly if you like "Madam Porky" (I don't usually crave for pork but I have to admit I enjoyed what we had) and wine selection was plentiful and reasonably priced.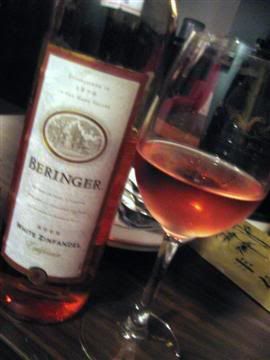 Beringer Zinfandel
Very easy and pleasant to drink. As in all Zinfandels, it is sweet and sligtly fruity. Ladies would like this very much. First sip reminds me of an alcoholic Ribena.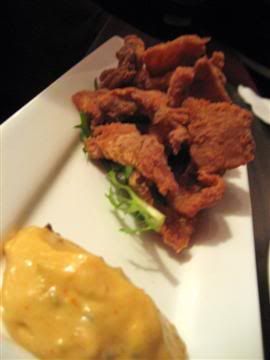 Deep Fried Pork Strips
If the description turns you off, then don't even taste it because once started, you simply can't stop! It's that addictive!
Fried Korean Noodles with Caramelized Roast Pork
I was craving for some carbo so we ordered this. Really looks like Mamak Mee Goreng right? But it really did fully satisfy my carbo craving. Very good albeit a very expensive mee goreng.
Spicy Caramelized Roast Pork
Those few pieces of caramelized roast pork that came with the noodles had us craving for more so we ordered another plate of this. Again, very good!
Time for desserts: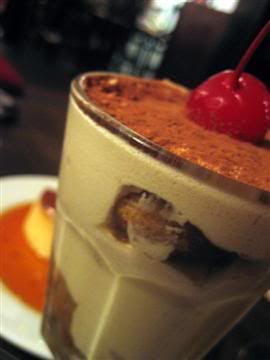 Tiramisu - Rich and creamy. Not bad but not among the best that I have tasted though.
I prefer this, their House Special Creme Brulee. Smooth and creamy. You will probably not want to share this with anyone else.
Update: I should probably mention that their service is definitely a hit-and-miss. Can be anything from enthusiastic to downright sulky, depending on who's serving you (here's a game for you if you visit this place: try to guess who is the lady with invisible and unremovable weights attached to both corners of her mouth) and how busy they happened to be that night (which is probably, most of the time). During our most recent time there, my friends and I (a big group of 10 or more) nearly "au huet" (vomit blood) from the service that we got that night (don't get me started, you might just see blood...) to the point that some of my friends who were first timers there vowed never to return again.....*sigh* 'Allo, if you dislike serving people so much, change job lah!
Note to the Management: Service DOES Matter!
Other reviews:
Masak-masak
Memoirs of a Chocoholic
The Vintry Cellar
Medan Damansara
(same row as The Rib Shop, behind Victoria Station and Jake's Charbroiled)
Kuala Lumpur
Tel No: 03 - 2094 8262